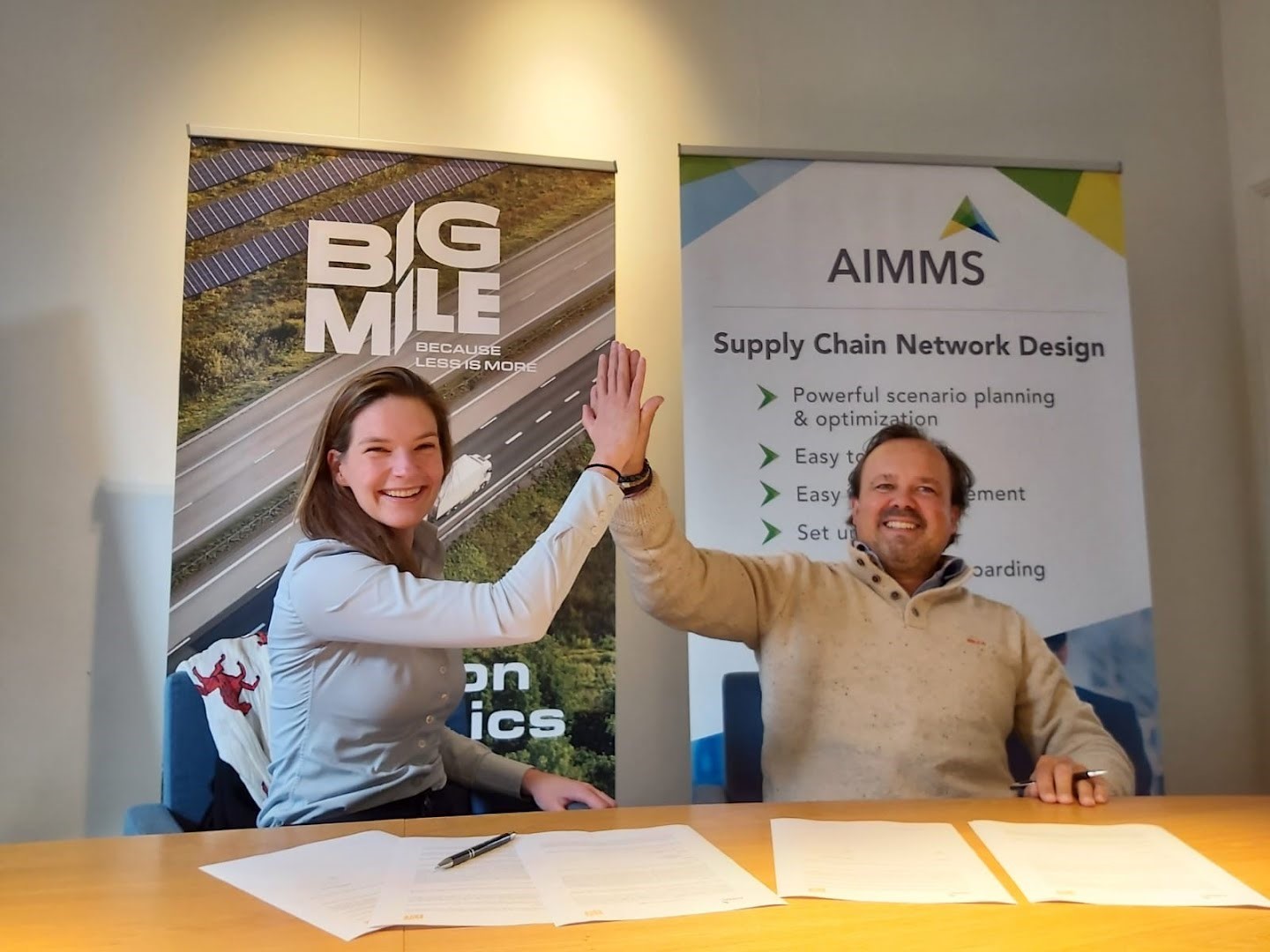 AIMMS announces strategic partnership with BigMile to offer carbon emission data to customers to enhance sustainability and efficiency in supply chain optimization.
AIMMS, a global leader in advanced supply chain planning and optimization solutions, is excited to announce its strategic partnership with BigMile, a pioneering technology partner specializing in providing accurate carbon emission data for supply chain and logistics.
This collaboration marks a significant step toward enhancing AIMMS' commitment to sustainability and equipping its customers with the tools to reduce their carbon footprint.
As part of this partnership, AIMMS will complement its suite of supply chain optimization tools with BigMile's cutting-edge data and technology. AIMMS customers will be able to gain access to accurate data related to actual CO2 emissions, enabling them to make environmentally responsible decisions that contribute to their sustainability goals. The partnership also brings forth the possibility of benchmarking carbon emissions, offering AIMMS customers a comprehensive view of their environmental impact.
Jan Pronk, Managing Director of BigMile, comments: "Today's businesses are operating in disruptive and ever-changing environments, with complex supply chains that need to be both resilient and sustainable. As BigMile, we can contribute to this by helping companies to calculate, allocate and report ISO 14083-compliant carbon emissions for all their supply chain and logistics-related activities. In AIMMS, I am proud to say that we've found a partner with a proven track record who can complement our solution with state-of-the-art supply chain network design technology to support companies on a strategic level."
"AIMMS has always been dedicated to empowering our customers with innovative solutions that drive value and sustainability. Our collaboration with BigMile is a significant step towards this goal, allowing us to provide our customers with vital carbon emission data and the potential to benchmark their emissions, aligning with their sustainability objectives," said Zoe Schouten, Business Director Supply Chain Solutions.
This partnership between AIMMS and BigMile will enable businesses to:
Reduce their carbon footprint by making informed decisions based on carbon emission data
Enhance supply chain efficiency and resilience
Gain a competitive edge by adopting sustainable practices.
For AIMMS customers interested in benchmarking their carbon emissions, this partnership opens new possibilities. AIMMS and BigMile are dedicated to working closely with customers to meet their unique requirements and provide tailored solutions