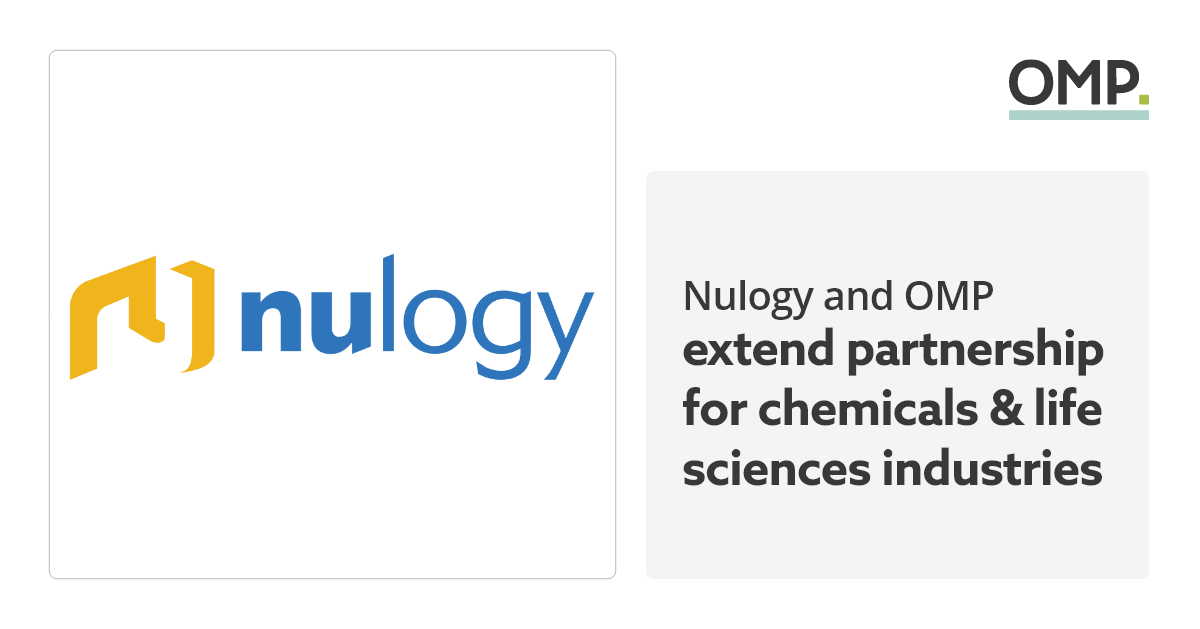 TORONTO, ON, September 20, 2023 – Nulogy, a leading provider of supply chain collaboration solutions, and OMP, a global software and services company specializing in optimizing supply chain planning, today announced an expansion of their existing partnership. The expansion enables the two companies to deliver an enhanced supply chain digital transformation experience to a new group of industries, including life sciences and chemicals.
The Nulogy-OMP partnership
First announced in December 2021, the Nulogy-OMP partnership focused on providing solutions for consumer packaged goods and food & beverage companies. The combined multi-enterprise solution integrates OMP's Unison Planning™ platform, which optimizes supply chain operations within an organization, with Nulogy's solution, which enables real-time, synchronous and dynamic collaboration between global enterprises and their networks of external suppliers, ranging from raw material to co-manufacturing and co-packing partners.
"We have moved past the era where 'enterprise' software focused on internal operations was the sole requirement for running a large business," said Jason Tham, CEO and co-founder of Nulogy. "Companies today need to focus on multi-enterprise operations, streamlining communications and collaboration across complex networks of suppliers and customers. Our partnership with OMP provides the best of both worlds: a world-class enterprise solution from OMP for building robust supply chain plans, and Nulogy's purpose-built multi-enterprise solution for executing on plans that may include dozens—or even hundreds—of suppliers."
Today's announcement extends that partnership to deliver the same benefits to companies in the life sciences, pharmaceutical, and chemical industries, triggered by the interest of many of OMP and Nulogy's common customers to provide true cross-enterprise visibility for their own value stream analysts and suppliers alike.
"Nulogy and OMP's solutions perfectly complement each other," said Philip Vervloesem, Senior Vice President, OMP USA. "At OMP, we are focused on sensing market priorities and challenges in collaboration with our OMP customer community. Following the example of consumer goods, more industries are now striving to enable visibility into their digital supply chain twin across their partners and integrate supplier information that allows them to respond to disruptions much faster."
Customers stand to benefit in multiple ways. Planners no longer have to collect information by phone or email, and the increase in data accuracy and reduction of data latency result in a more agile supply chain, where better decisions are made faster.
The solutions
Unison Planning™, OMP's innovative XAI-based solution optimizes supply chain planning within an organization, ensuring the alignment with its strategic goals and end-to-end visibility over the entire value chain. OMP's trusted Unison Planning™ is leveraged by Fortune 500 companies such as Procter & Gamble, Dow, and Johnson & Johnson.
Nulogy is the only purpose-built multi-enterprise collaboration platform for supplier networks, and digitally enables brands and their external supplier networks to collaborate seamlessly on a centralized, data-driven, AI-enabled platform. Nulogy is run within the supply networks of leading brands such as L'Oréal, Colgate-Palmolive, and Church & Dwight, as well as hundreds of supplier sites around the world.