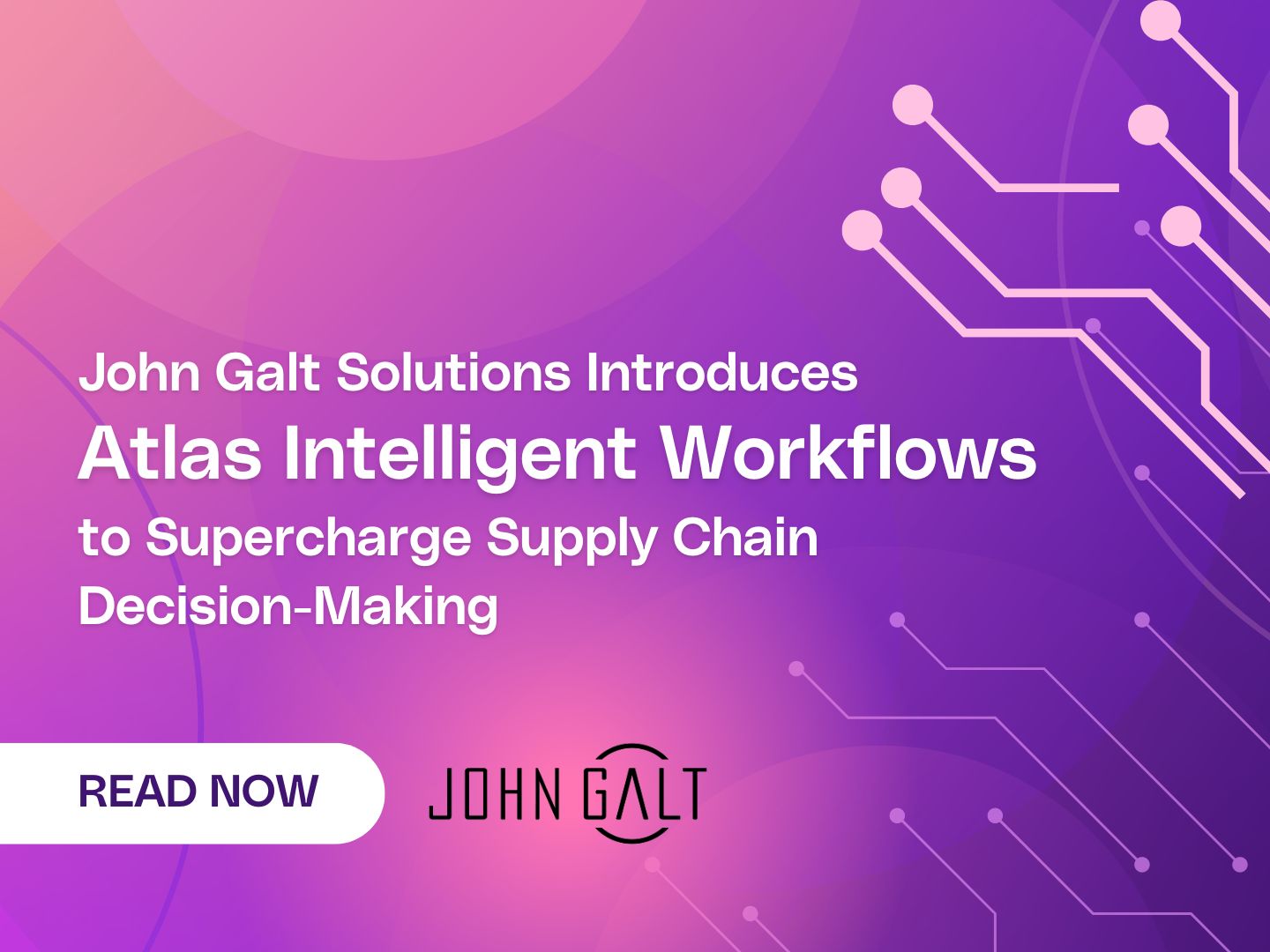 AUSTIN, TX – September 13, 2023 – John Galt Solutions, automating supply chain planning to empower business leaders to make better decisions faster, today announced the release of its Atlas Intelligent Workflows within its market-leading Atlas Planning Platform. This latest innovation enables seamless user and cross-functional team coordination and decision-making by allowing users to effortlessly design, build, manage, and automate complex decisions within a no-code canvas for optimal efficiency and collaboration. 
Atlas Intelligent Workflows is a composable workspace for dynamic decision making and trusted collaboration, with the ability to deliver prescriptive recommendations for the best course of action. Users can speed up the decision-making process, harnessing visual insights fast to make smart, guided choices. The technology enables users to build, adjust, and execute their end-to-end processes and monitor the progress status, with the ability to compose and recompose transparent decision flows that can be tailored to specific roles, skills, as well as supply chain tasks and activities.
Simon Ellis, Group Vice President at market research firm IDC, noted, "Supply chain leaders must embrace the latest innovations and solutions that accelerate their time to expertise. Advanced technology empowers users to harness data and uncover insights to drive efficiency and make better decisions in the face of growing uncertainty in the supply chain landscape."
The unparalleled versatility of Atlas Intelligent Workflows allows supply chain professionals to fine-tune rules, combine tasks, and seamlessly orchestrate them into higher-level processes. Powered by John Galt Solutions' innovative AI and machine learning, these workflows capture decisions at every step, ensure complete visibility and continuity even as data and events evolve, and infuse automation and collaboration into the heart of decision-making.
"We continue to enable our global customers to drive real business value by supporting their mission critical needs today while helping them accelerate their digital transformation," said Alex Pradhan, Global Product Strategy Leader at John Galt Solutions. "Now more than ever, companies of all sizes and across all industries need to reduce complexity, streamline interactions, and simplify and orchestrate their decisions to quickly respond to business needs. Today's introduction of Atlas Intelligent Workflows makes it easy to operationalize decision intelligence, and build and intelligently automate decision models into workflows and core business processes."
To learn more about the Atlas Planning Platform from John Galt Solutions, visit johngalt.com/atlas.