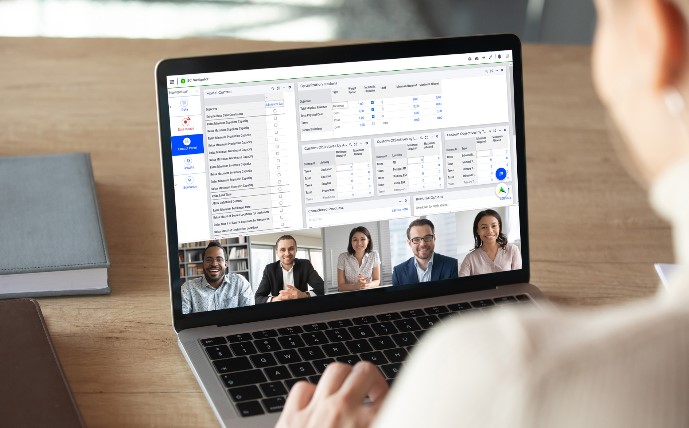 AIMMS is excited to announce the release of SC Navigator 4.0. The newest release of AIMMS' off-the-shelf solution is designed to optimize strategic and tactical decision-making. SC Navigator 4.0 is now streamlined into one application and has advanced network design functionality, additional tactical planning use cases, and more modules that can be added as businesses evolve.
Key capabilities of SC Navigator 4.0
Streamlined into 1 easy-to-use app: SC Navigator 4.0 simplifies the user experience by consolidating applications into a comprehensive, all-in-one platform. The intuitive design allows users to effortlessly navigate through the software, boosting productivity, saving time, and streamlining workflows.
Advanced Network Design functionality: SC Navigator 4.0 introduces enhanced capabilities for strategic network design. Users can optimize cost, service levels, inventory, and can model end-to-end supply chains, from suppliers to customers while considering as many business rules as necessary thanks to a variety of flexible constraints that can be applied to the model. This advanced functionality empowers organizations to make informed decisions that drive efficiency across their supply chain.
New tactical planning use cases: SC Navigator 4.0 introduces tactical planning modules, enabling repeatable scenario planning for shorter-term decision-making. With features like stock build automation, profit/revenue optimization, and customer fulfillment prioritization, businesses can effectively manage production, resources, and customer demands. Improved scenario management and multi-period reporting further enhance decision-making accuracy.
Add modules as your business grows: Consider key external factors like sustainability and risk. Understand your scope 1, 2, and 3 emissions to de-carbonize your network and assess hidden risks before they occur.
"We're thrilled to introduce SC Navigator 4.0, our new streamlined suite of apps containing modules that were previously separate. This new modular approach provides all the features you know from individual apps such as Network Design – now with Advanced Network Design functionality, additional tactical planning use cases, and much more," said Paul Van Nierop, Product Owner at AIMMS.
Experience the power of advanced network design and tactical planning, and witness firsthand how SC Navigator 4.0 can elevate your supply chain operations. The new release is the result of close collaboration with our customers and partners. Their feedback and insights have been invaluable in shaping 4.0, ensuring it meets the fast-changing needs of our customers' industries.
To learn more about SC Navigator 4.0 and its capabilities, check out our blog – What's new in the latest release of SC Navigator 4.0?
About AIMMS
AIMMS is a leading vendor of Supply Chain Scenario Planning software. We empower teams to optimize their Supply Chain and explore potential scenarios and strategies enabling trade-off decision-making like costs, risks, service levels, and CO2 emissions. We offer powerful & intuitive technology, proven success, and a genuine relationship. Our offerings include SC Navigator containing modules SC Network Design, Tactical Planning, Digital Twin as a Service (DTaaS), S&OP, and bespoke SC optimization applications.