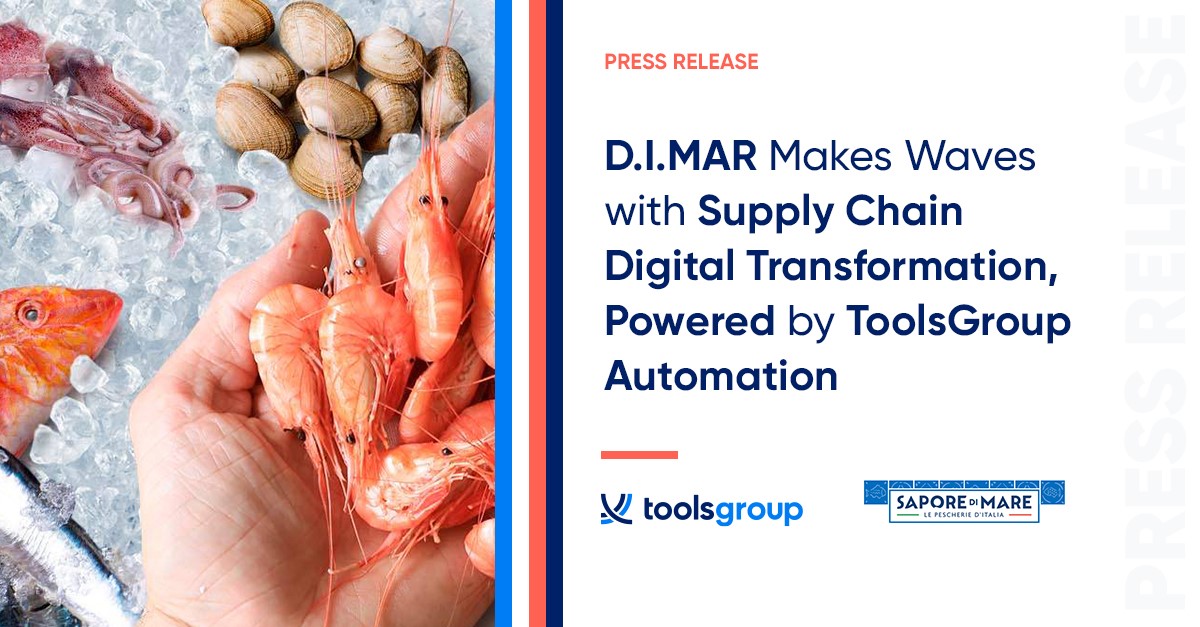 Milan, Italy and Boston, MA | June 06, 2023 – ToolsGroup, a software vendor in retail and supply chain planning and optimization, is thrilled to announce it has been selected by D.I.MAR, an Italian company in the frozen food industry, to heighten its supply chain performance, bolster supplier relationships, and drive enhanced business results.
D.I.MAR produces, distributes, and sells frozen seafood and fish products. It is renowned in both the domestic and international markets for its quality and freshness, selling its products both directly and via an extensive network of franchises. It supplies various channels, including retail, supermarkets, wholesale, and HORECA, and it manages a substantial number of suppliers worldwide.
"D.I.MAR holds itself to the highest standard when it comes to the quality of our products," said Alessandro Evandri, Supply Chain Manager. "We want every node of our supply chain – from upstream suppliers to downstream franchisers – to be just as customer-focused. ToolsGroup provides the solution we need to make faster, more accurate decisions that deliver the best consumer experience, while achieving our business metrics and strengthening relationships network-wide. We're excited to transform our business while continuing to provide customers with the best products the sea has to offer."
After a rigorous selection process, D.I.MAR chose ToolsGroup Service Optimizer 99+ (SO99+) to drive its digital transformation. With Demand Planning & Forecasting, Inventory Optimization, and Replenishment, the company is now equipped with an automated, AI-driven supply chain. Aided by ToolsGroup's built-in probabilistic forecasting, D.I.MAR can anticipate market changes and adapt quickly to satisfy customer demand regardless of uncertainty.
"Artificial intelligence is the guide that steers resilient, profitable, and customer-centric supply chains, even amid rapid market changes," said ToolsGroup CEO, Inna Kuznetsova. "By applying automation and AI to complex networks, we help organizations navigate uncertainty with confidence and success. We're delighted to partner with D.I.MAR and, together, implement the technology and strategies that will catalyze their supply chain evolution and help their business thrive."