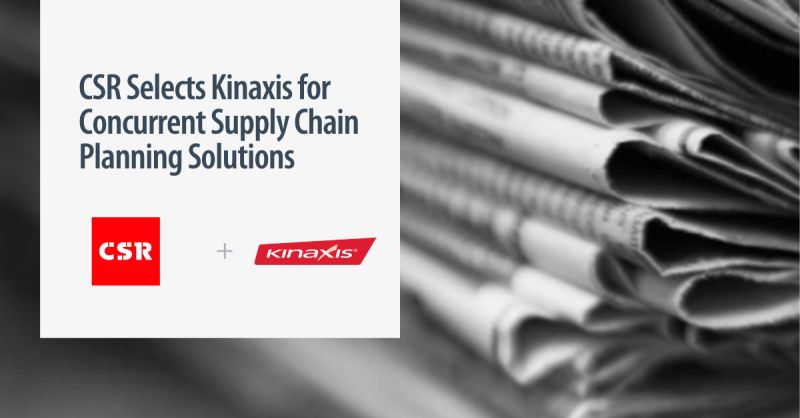 OTTAWA, Ontario–(BUSINESS WIRE)– Kinaxis® Inc. (TSX: KXS), the authority in driving agility for fast, confident decision-making in an unpredictable world, announced today that CSR, one of the leading building products in Australia and New Zealand, has selected Kinaxis to drive accuracy and transparency across its supply chain and ensure they are prepared for the unexpected.
CSR is the name behind some of the market's most trusted and recognised brand names in providing building products for residential and commercial construction in Australia, including Gyprock™ plasterboard, Bradford™ Insulation, Cemintel™ fibre cement, Hebel® autoclaved aerated concrete panels, PGH™ Bricks, Monier™ rooftiles and AFS walling systems™. CSR operates low-cost manufacturing facilities and has a strong distribution network to service their customers across Australia and New Zealand.
The Kinaxis' RapidResponse platform offers a solution for realigning, consolidating and optimizing global supply chain activities for maximum flexibility and faster decision-making. CSR selected Kinaxis, in partnership with Argon & Co., a global management consultancy specializing in operations strategy, to transform their supply chain capability.
"RapidResponse will be a key part of our large-scale transformational change," said Cameron Webb, executive general manager, Transformation, Technology and Digital at CSR Limited. "The current volatility and global supply chain disruptions require an integrated view to enable quick decision-making."
"Working together with CSR to achieve their transformation objectives, we bring a combination of deep technical expertise and operational experience to this engagement," said Argon & Co. Partner ANZ David Bissett. "Partnered with Kinaxis, we look forward to supporting CSR through this operational transformation which we believe will lead to substantial improvements in efficiency, visibility and decision-making."
With more than 40 current customers with operations in Australia, Kinaxis welcomes CSR as the first Australia-based corporation to join the record number of companies selecting Kinaxis for supply chain planning and optimization, which ultimately reduces waste in the supply chain.
"CSR is already a leader in sustainability efforts. Using RapidResponse to help them identify more efficient routes and delivery options for forward and reverse logistics with real-time scenario planning will cut carbon emissions even more," said John Sicard, CEO at Kinaxis. "We are excited to work with the world's leading companies, like CSR, who are committed to supply chain sustainability."