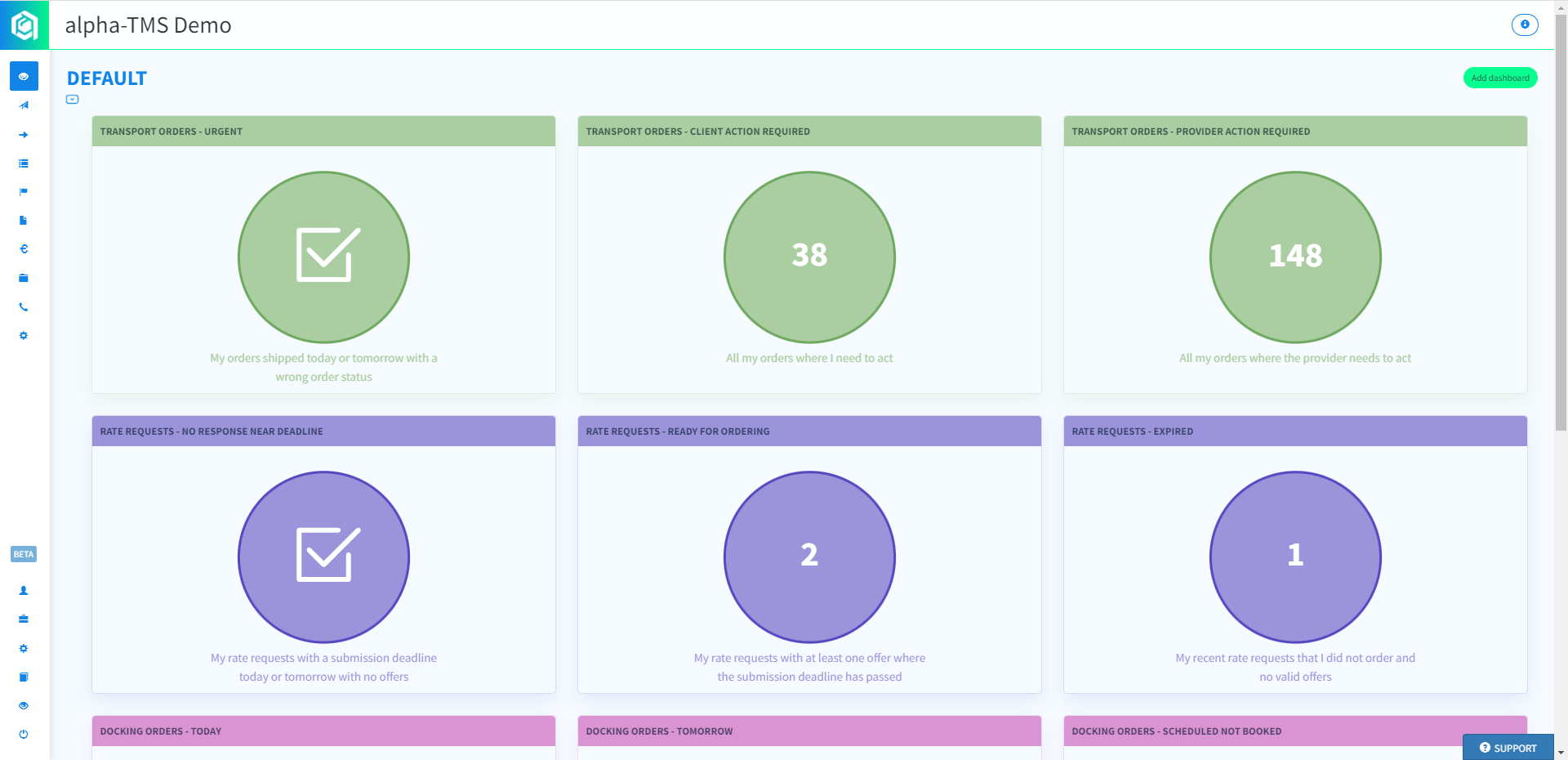 Alphen aan den Rijn, 22 april 2023 – In a new release, Transinnovate has expanded its' transport management system for shippers, alpha-TMS, with a new "insights" module. Users of shippers can now create a personalised dashboard to get quick insights in the specific information that is relevant to them.
Alpha-TMS is a SaaS solution that provides shippers online insight in their contract freight rates of logistics service providers, allows them to place transport orders, request spot rates and schedule loading and unloading at their docks. The new "insights" module ensures that users in different roles within the shipper company obtain quick situational awareness in the information that is relevant for them.
Selecting the relevant widgets
'The module is widget based which works very user friendly', said Peter Struiwigh, Director Logistics at Transinnovate. 'Users can select widgets for their dashboard and adapt the settings. A single click on the widget takes the user orders of spot rates where an action is required'. Besides a personalised dashboard, also a default dashboard is provided to all users.
Filtering information needed for decisions
The advantage of the "Insights module" is each users can filter fast on the large amounts of data available in alpha-TMS. 'Logistics operations would like to check if all booked orders are confirmed, while logistics procurement would like to see which carrier companies have replied on a rate request', said Peter Struiwigh.
Flexibility and sustainability
In addition to "Insights" more functionality has been added. Users now have increased flexibility in adapting other menu's to their personal liking. 'Also a new module has been released to manage packaging and', Struiwigh continues. Other changes to alpha-TMS include new features that will form the basis for a new sustainability module so that shippers can proactively manage the environmental footprint of outsourced transport. 'This module is scheduled for release in the second half of 2023', according to Struiwigh.