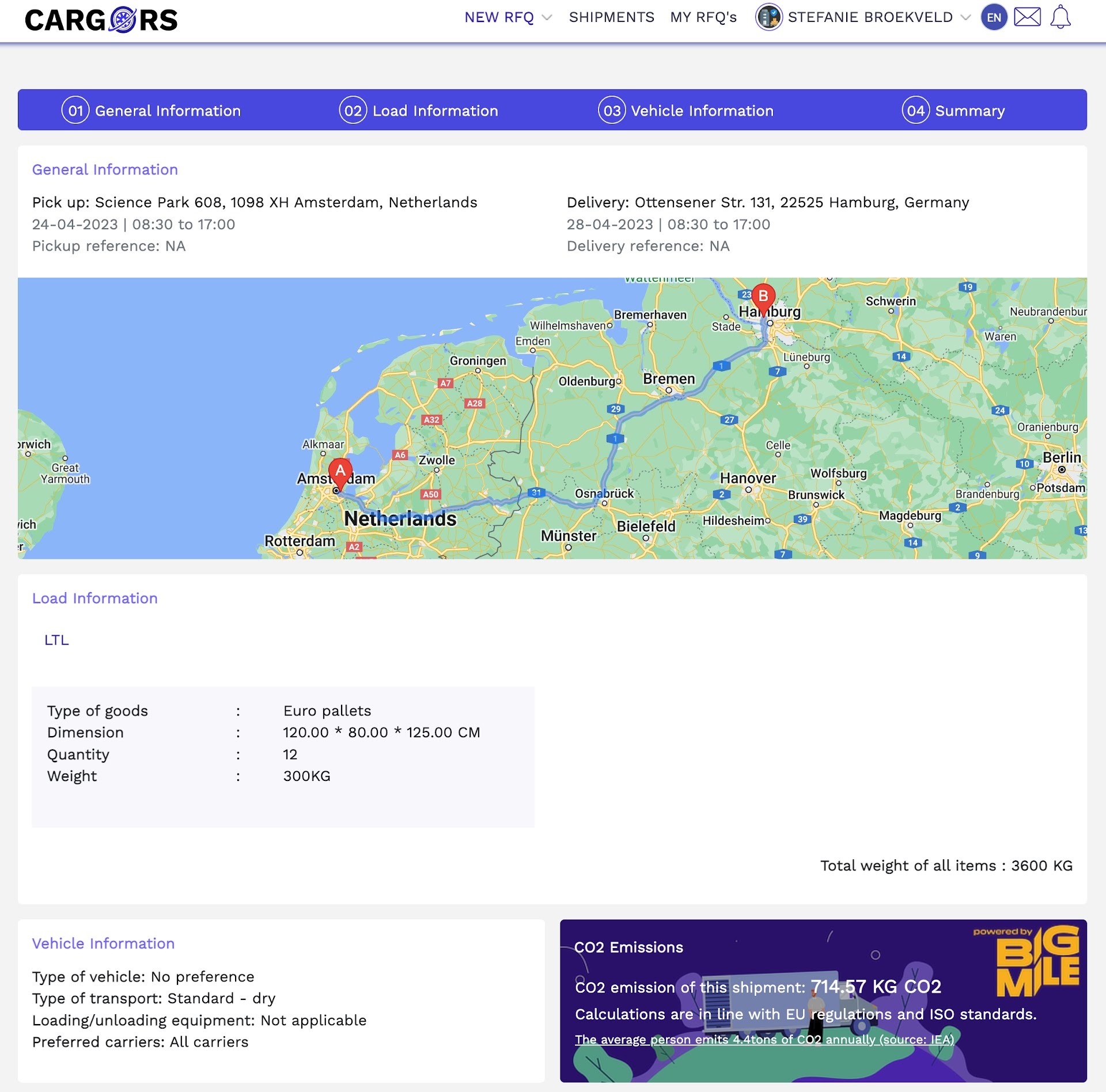 Cargors, a logistics transportation network for small and medium-sized enterprises (SMEs), has announced that it is integrating the BigMile platform. This will enable users to see at a glance how much CO2 is caused by a shipment. "This fits perfectly with our mission to make road freight more transparent and sustainable," says Najeeb Qazizada of Cargors.
By maintaining a detailed overview of the available transport capacity among affiliated carriers, Cargors is able to connect shippers with the most suitable carrier, resulting in better utilization of available capacity and more sustainable trip planning for carriers.
Transparency and sustainability
"The European road freight market is known for its high level of brokering and low transparency. As a result, more than 40% of carriers in Europe drive empty and carriers have extremely low margins," explains Najeeb Qazizada, CEO and co-founder of Cargors. "We aim to change this with our portal. Rather than acting as a broker, we are a gateway. We enable each carrier to set their price, and the shipper makes the final choice."
Besides providing price transparency, Cargors is now adding information about shipment-level carbon emissions to the portal. Within seconds of the shipper entering the order, the system suggests a number of options. The shipment can then be created and the predicted CO2 emissions are immediately shown.
"Most SMEs regard sustainability as important, but they don't yet have the facilities to gain and provide visibility into their carbon emissions. We are now normalizing and standardizing that for them," continues Qazizada. "Moreover, thanks to our partnership with Trees for All, every shipment handled through our gateway contributes to the planting of trees. We intend to add more projects in the future."
Easy
Sven Poot, Business Development Manager at BigMile, explains that he is very happy with the new partnership with Cargors: "Thanks to the portal's integration with the BigMile Emission API, it will now be very easy for shippers in the SME sector to transport their shipments more sustainably with full clarity into costs. The shipment-level emissions insights that have now been added also allow users of the Cargors portal to make changes themselves, to reduce their emissions even further."