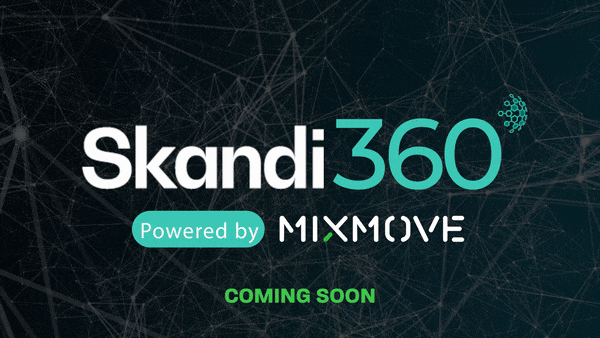 January 17th, 2023 – Skandi Network, the first European active temperature-controlled Life Care distribution network, has announced its partnership with MIXMOVE, a cloud solution that supports logistics by connecting systems, increasing profitability and reducing C02 emissions. By developing a unique digital collaborative platform (Skandi 360° powered by MIXMOVE), shipment data flowing from different sources going through the network will be consolidated, ensuring end-to-end visibility.
Skandi Network is the first unified network for healthcare distribution throughout Europe for human & veterinary healthcare products. The network offers healthcare temperature-controlled transport for parcels and 1 to 5 pallet(s) shipments throughout 25 countries. Skandi Network is composed of 7 members who are all leading healthcare carriers. The main challenge of the network is to operate cross border transport shipments that involve cross docking operations.
"Having end-to-end visibility is already a challenge with one carrier but operating multi-country and multi-carrier operations at the same time is even more challenging. As we are transporting temperature sensitive healthcare products, we must guarantee that the products are transported in alignment with the GDP regulations and that temperature is monitored and always guaranteed. It is also important that our customers can have access to that information in real time." – Rudy Smets, CEO of Skandi Network.
For these reasons, Skandi Network teamed up with MIXMOVE to provide a unique collaborative platform – Skandi 360° – to consolidate all operational and analytical data flows for all shipments going through the network.
One view and one access to the best-in-class healthcare transport network in Europe
Skandi Network is about giving access to the best-in-class healthcare transport network in Europe, working with 7 domestic leading freight forwarders. Skandi 360° will provide a coordinated solution to the market and its different stakeholders, giving them real time access and control of the first pan-European healthcare transport network (having over 4,780 vehicles and 165 temperature-controlled depots).
Connecting to Skandi 360° will allow them to expand, and/or optimise, their own capacities in a consolidated approach.
CO2 emissions reduction
In addition, Skandi 360° will also give an opportunity to reduce the carbon footprint and the cost of ownership throughout the whole transport chain. This includes:
Consolidation of flows,

Optimisation of logistics networks via regional distribution centres,

No additional passive packaging needed in the network,

And a reduction of damages and product loss during transport thanks to temperature monitoring
Digitalising Logistics with MIXMOVE
MIXMOVE can integrate a very large amount of information and data coming from different sources and IT systems (like TMS, telematic systems, WMS, ERP). The MIXMOVE technology turns vertical and independent data flows into a flexible and consolidated One view/One access to data, all the way up to parcel/shipment level.
MIXMOVE also makes it possible to combine transport network functionalities and collaborative platform functionalities. This enables the management of the transport network in a lean and efficient way, creating real added value for all users of Skandi Network.
MIXMOVE tailors its technology to suit specific constraints linked to the healthcare transport business, including the regulations around integrating quality management, real-time temperature follow-up (including corrective and preventive actions), and POD's that include an end-to-end temperature curve.
"We have chosen MIXMOVE for their proven expertise in the global supply chain and their proven technology to manage complex transport network operations. They use an advanced cloud-based technology with API connectivity. The MIXMOVE solution offers a capability to connect different systems and different tools (TMS, WMS, telematic systems…) seamlessly to the platform. This is what we needed, first to allow all members to be connected, and second to allow all external stakeholders, such as logistic service providers, to plug themselves into the platform and use our network." – Rudy Smets, CEO of Skandi Network.