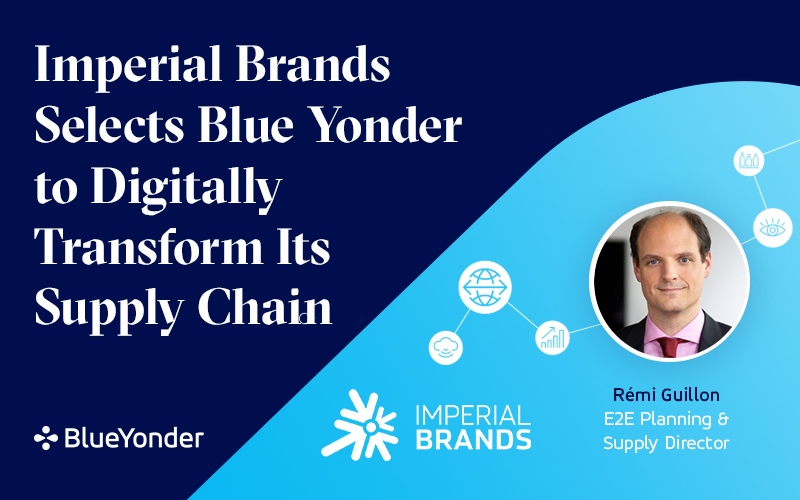 British company to implement several of Blue Yonder's planning, commerce and logistics solutions to drive end-to-end supply chain integration
BRISTOL, UK, and SCOTTSDALE, Ariz. – Jan. 10, 2023 – Imperial Brands, a British multinational tobacco company, has selected to digitally transform its end-to-end supply chain with Blue Yonder, the leader in digital supply chain transformations and omni-channel commerce fulfillment. Imperial will implement Blue Yonder's SaaS-based Luminate® Planning, Luminate Commerce, Luminate Control Tower, and Transportation Management System (TMS), all underpinned by Luminate Platform.
Imperial is the world's fourth largest international tobacco company with more than 30 factories worldwide and its products sold in approximately 120 countries. In line with the company's purpose to "forge a path to a healthier future for moments of relaxation and pleasure," Imperial is participating in the transformation within its industry by building a portfolio of potentially less harmful next generation products that also satisfy consumer needs.
Imperial needed a single-proven, end-to-end supply chain solution to drive efficiencies and adapt to its changing supply chain. Imperial turned to Blue Yonder to be its end-to-end supply chain solutions provider across the globe. With Blue Yonder, Imperial will be able to:
Implement improved processes, new controls and procedures to meet its supply chain needs as its next generation products continue to grow.
Drive efficiency in its planning processes to maintain and increase profits, especially as inflation drives up the cost of raw materials.
Offer a direct-to-consumer channel in the near future, part of a global trend in manufacturing.
Adjust demand and supply and manage disruptions based on near real-time data and prescriptive recommendations powered by machine learning.
Refine transportation networking, unify and automate operations, and optimize delivery performance, sustainability, and cost.
"As our industry continues to evolve, so must our company, and supply chain is one of our core transformation areas. Our strategy is to drive an end-to-end supply chain integration across our planning, logistics and retail operations, and we have chosen to do this with Blue Yonder as our supply chain solutions provider. With Blue Yonder and our ambition to build a 'healthier future' for our consumers and planet, we are confident we will greatly improve efficiency, agility and our environmental footprint and benefit the planet by reducing CO2 emissions and waste. We look forward to driving this transformation together," said Javier Huerta, chief supply chain officer, Imperial Brands.
Blue Yonder's solutions will provide Imperial with a holistic and connected view of its end-to-end supply chain planning processes, offering strategic scenario planning, demand forecasting, and supply chain & inventory optimization. Imperial will be able to evaluate and execute connected planning scenarios and use prescriptive recommendations to make more accurate inventory decisions to improve the customer experience. By implementing Luminate Control Tower, Imperial will be able to visualize real-time disruptions and impacts to its supply chain, enabling its planners to be prepared for situations with cost-effective responses. With Blue Yonder's TMS, Imperial can transform its transportation operations by managing and optimizing end-to-end business processes from transportation network modeling to planning to execution, carrier collaboration, and last-mile delivery. Luminate Commerce will provide next generation order management capabilities, supporting direct-to-consumer (D2C) and business-to-business (B2B) strategies with a real-time view of inventory availability and order orchestration across all digital channels. All these solutions will be underpinned by the Luminate Platform, which will help to synchronize them across planning, execution, labor, commerce, and delivery to seamlessly optimize Imperial's end-to-end business.
"Imperial was looking for a supply chain solutions provider to lead and transform their business. We are proud that they have chosen Blue Yonder to guide them on this journey. Our solutions – from Planning to Commerce to Logistics to Control Tower to Platform – will provide the end-to-end visibility and supply chain capabilities they need. They will also better adapt as their supply chain requirements change and consumer habits shift. This will in turn improve business performance as they look to a healthier future," said Phillip Teschemacher, corporate vice president, Manufacturing – EMEA, Blue Yonder.