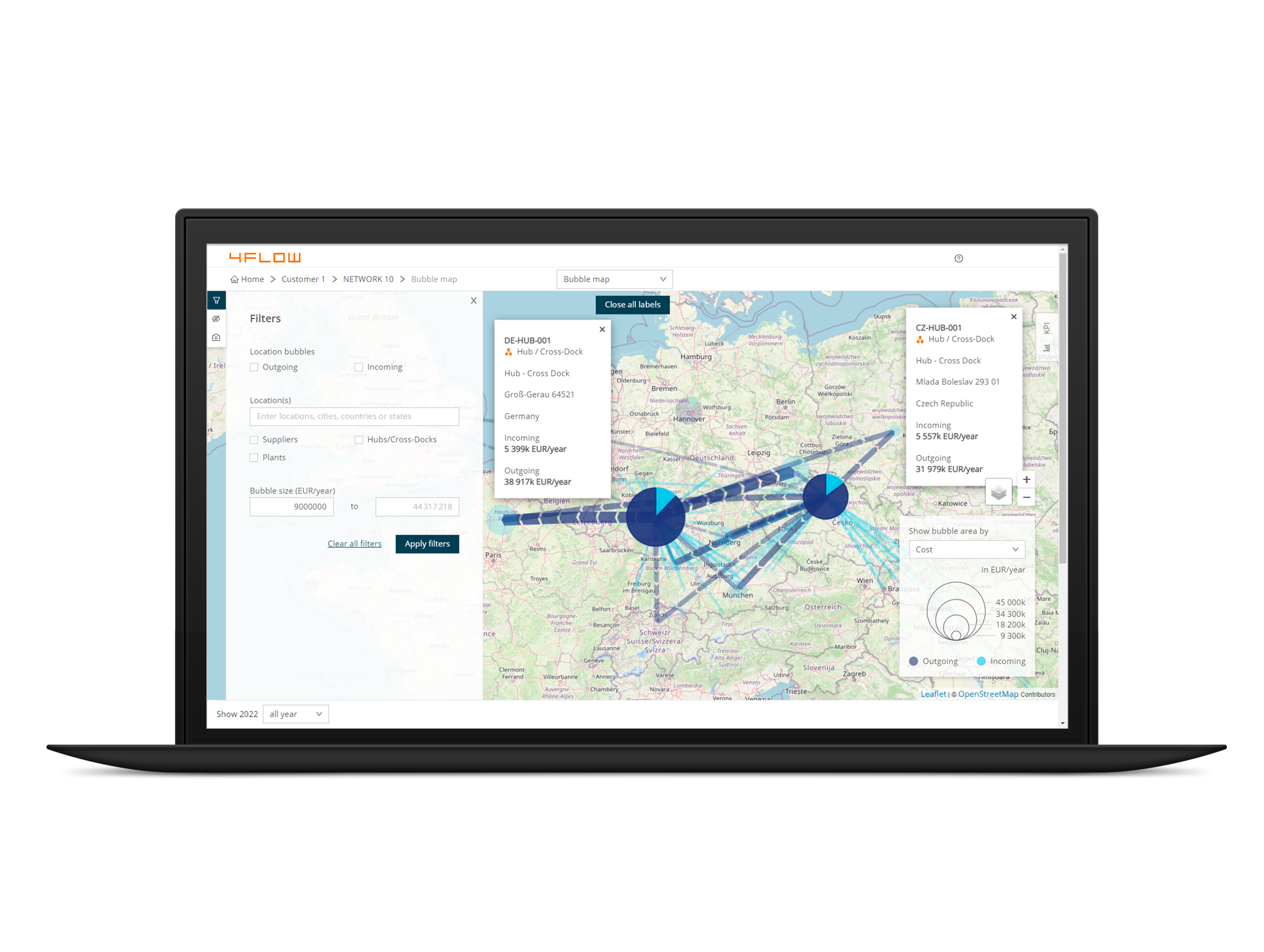 4flow, a leading provider of supply chain consulting, software and fourth-party logistics (4PL) services, has released a new software for rapid modeling and analysis of supply chain networks – 4flow NEVA (Network Exploration, Visualization and Analysis). The tool gives planners and consultants valuable insights to improve the supply chain networks of corporations from medium-sized businesses to global enterprises, across all industries and modes of transportation.
Visualizing baseline networks, tracking network changes, and analyzing and clustering flows are among the most common use cases to be covered with 4flow NEVA.
"With 4flow NEVA we are leveraging our over twenty years of experience and insights gained in hundreds of consulting projects. We are making this expertise available for our customers in an intuitive, user-friendly software interface", said Christian Nieters, executive vice president and head of 4flow software.
Global delivery flows, dynamic markets and unpredictable events often force businesses to review their supply chain networks on short notice. While disruptions are an undeniable occurrence in supply chain, it is possible to increase agility to withstand and quickly recover from them. Agility starts with visibility and an understanding of the entire supply chain network. Because networks are constantly changing, this kind of end-to-end understanding requires a suitable software that quickly provides easy-to-use results.
Intuitive user interface for supply chain network analysis and improvement
4flow NEVA (Network Exploration, Visualization and Analysis) is specially designed to help supply chain professionals take the first steps towards a resilient supply chain with a modest investment and quick implementation time. It introduces visibility to complex baseline networks by creating quick, easy and detailed interactive models and analysis within a few minutes. The powerful tool improves the quality of supply chain planning and supports businesses to react quickly to changes in their networks.
Moreover, businesses can use this transparency to identify ways to improve their networks, for instance by introducing flexibility to react to changes in future demand or by avoiding expensive or unsustainable modes of transportation. By frequently reviewing and optimizing supply chain network strategies, businesses can create versatile network structures, increase customer service and improve sustainability while reducing operating costs and risks.
"With 4flow NEVA, we provide a clear added value for our customers. Its rapid, easy-to-use results introduce transparency into complex networks, offering users a solid basis for unlimited optimization potential," said Christian Nieters, executive vice president and head of 4flow software.
4flow NEVA serves as a starting point for fast and strategic decision making. With its user-friendly interface and comprehensive in-app support, the web-based 4flow NEVA is designed by supply chain professionals with decades of experience in the industry. It is ideal for planners, analysts, consultants and leaders in logistics and supply chain and adds value across all industries and modes of transportation.