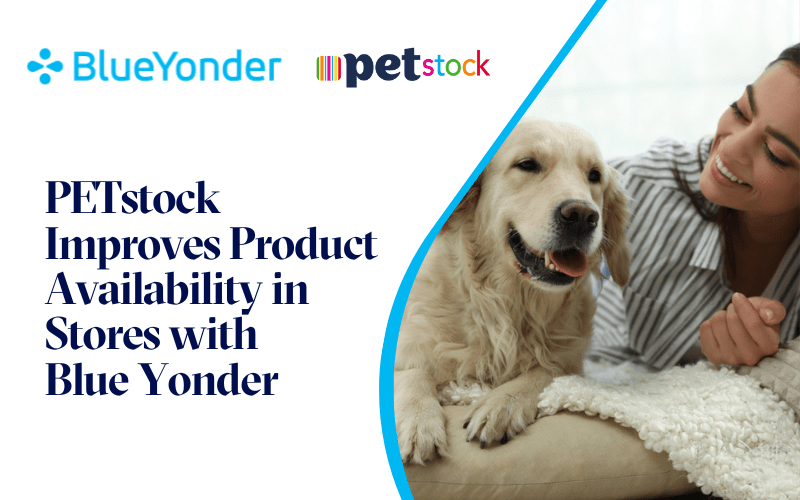 Leading Australian pet company successfully implemented Blue Yonder's category management solution, improving efficiency and right-sizing space allocations for its stores to provide a better shopping experience
VICTORIA, Australia, and SCOTTSDALE, Ariz. – Sept. 1, 2022 – With more people working from home during the COVID-19 pandemic, pet adoption increased in Australia with 69% of households now owning a pet, according to the "Pets and the Pandemic" report by Animal Medicines Australia. In addition, 37% of pet owners reported experiencing difficulty accessing things like pet food, treats and veterinary services. That's why PETstock Pty Ltd, Australia's leading pet company, chose to digitally transform its supply chain with Blue Yonder's SaaS-based category management solution, part of Luminate® Commerce, to create customer-centric stores based on consumer preferences in order to have the right products in the right stores.
PETstock operates in Australia and New Zealand and derives its revenue from providing specialized pet products and services through retail stores and veterinary clinics. The company was looking to better allocate space in its stores to meet customer demand and ensure the right items are always available. PETstock turned to Blue Yonder for the solution. Strikeforce, a Blue Yonder partner, implemented the project and PETstock has gone live in record time and within budget.
With Blue Yonder, PETstock can now:
Implement data-driven, analytical store layouts to optimize allocations of category space to meet consumer demand, driving customer satisfaction.
Increase efficiency by creating store layouts that are accurate and easy to implement by stores, as well as integrated with micro-space planning to create a seamless process.
Create planograms with capacities and facings optimized to local demand and store space constraints.
Reduce inventory by right-sizing assortment spacings to remove slow-moving stock and introduce new SKUs to drive sales.
"Blue Yonder took the time to determine our key objective of having a solution that will enable us to have the right products in the right stores, as well as enabling us to cater for future growth. They have a high level of expertise in the retail industry and have provided us a first-class category management solution that allows us to meet customer demand. We are inspired by pets and animals to make a positive impact for people, pets and the planet!" said Paul Roberts, space planning manager, PETstock
Blue Yonder's category management solution will allow PETstock to optimize layouts across stores, increasing space productivity and reducing out-of-stocks– all to increase customer satisfaction. By leveraging SaaS, PETstock will have unmatched scalability and reliability, as well as the ability to take advantage of new solution innovations as soon as they're available.
"With pet ownership on the rise, PETstock needed the ability to manage its product offerings to ensure the right inventory is on the right shelves at the right stores. With our solution, they can now build and maintain store-specific planograms to drive better efficiency for their planners and staff and meet the changing needs of its customers and their pets. We are looking forward to further expanding our relationship with PETstock in the years to come," said Daniel Kohut, vice president, Australia and New Zealand, Blue Yonder.