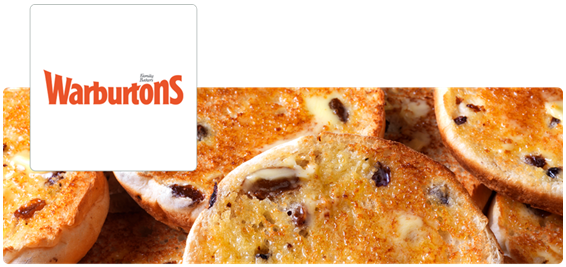 Warburtons, the UK's largest bakery business, has successfully deployed OMP for S&OP and for Operational Planning and Scheduling at all of its sites nationwide. The solution has allowed Warburtons to significantly optimize planning processes and further assure the freshness of packaged bakery products in retail stores.
OMP for S&OP and for Operational Planning and Scheduling was implemented at 10 bakeries and 16 depots. The solution allows Warburtons to better allocate capacity to demand, assess the impact of strategic decisions, and plan and schedule production to be as efficient as possible, which is essential for their business.
"We want to give our consumers the freshest product," says Rebekah Hinton, Head of Manufacturing Planning at Warburtons. "We therefore need systems that allow us to proactively plan production as close to the point of sale as possible." This requirement called for a smooth interaction between strategic planning, operational planning, scheduling of production and packaging, transport planning, and real-time integration with SAP.
It also involved a strategic switch from local to centralized planning. Ian Mallinson, IT Director at Warburtons, confirms the benefits: "We now have a really excellent integrated production planning solution, ensuring that all our bakeries work together in a well-organized way to give us the best balance of freshness, service levels and cost. This has been a challenging project, but we made it through the commitment and dedication of everyone involved, including OMP."
Jos van Heiningen, Customer Solutions Manager at OMP, is delighted with this successful implementation: "We established a solid collaboration with Warburtons' project team to jointly put in place this innovative and pragmatic solution integrated with SAP. We were also very happy to see that Warburtons were able to roll it out to the other product categories without needing any more help from us."
About Warburtons
Warburtons is the largest family-owned bakery business in the UK, employing around 4,500 people at 11 bakeries and 16 depots across the country. Actively managed by the fifth generation of Warburtons, the company has doubled in size in the last decade alone to become a £500 million-a-year business. More than a quarter of all bakery products consumed in the UK is produced by Warburtons, making them Britain's number one bakery brand.
About OMP
OMP helps companies facing complex planning challenges to excel, grow and thrive by offering the best digitized supply chain planning solution on the market. Hundreds of customers in a wide range of industries – spanning consumer goods, life sciences, chemicals, metals, paper and packaging – benefit from using OMP's unique Unison PlanningTM concept.
Contact
Jos van Heiningen, Customer Solutions Manager OMP The Netherlands
Phone: +31 10 753 72 51
E-mail: jvanheiningen@omp.com