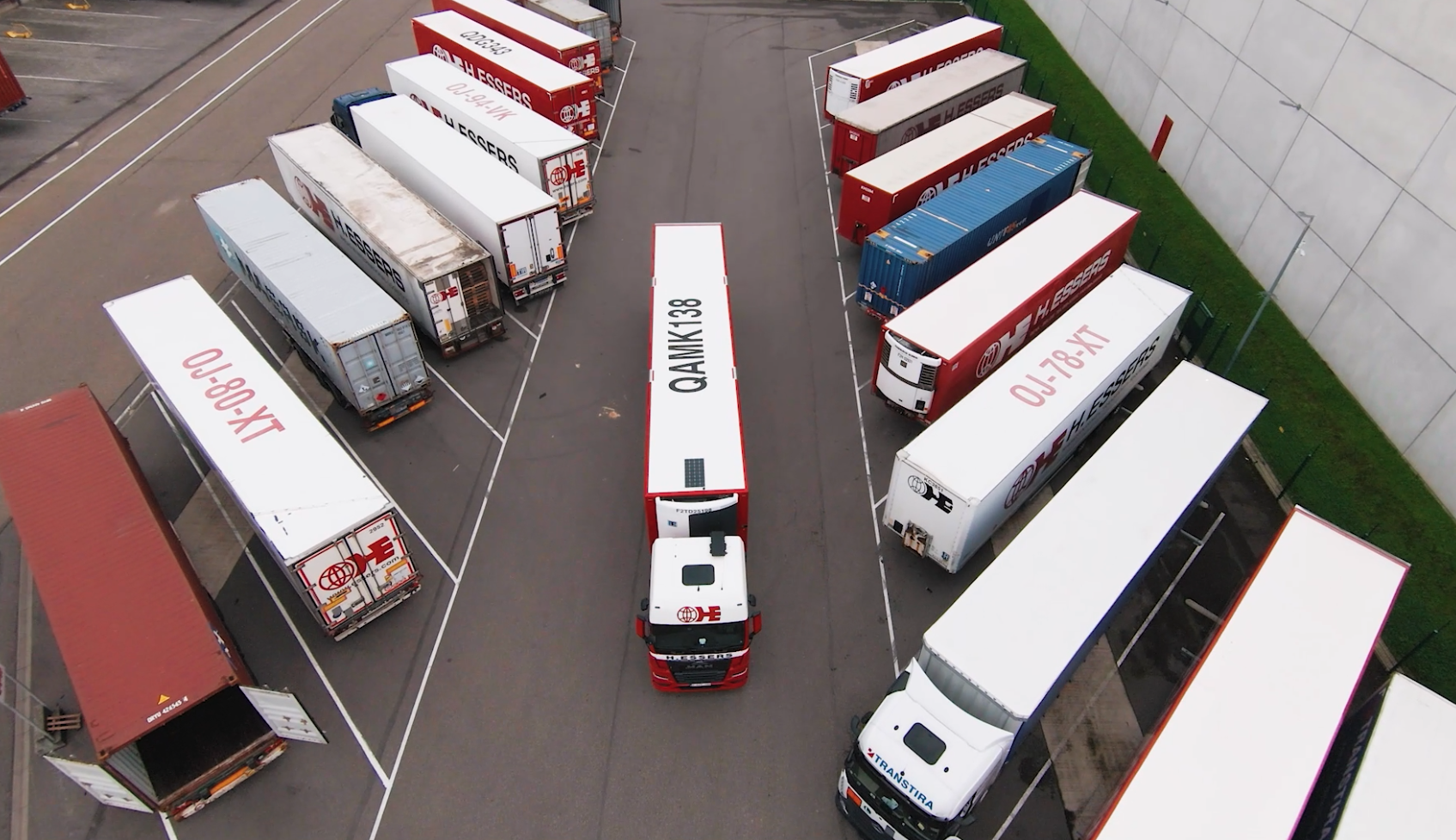 Ghent, November 2021 – In the ongoing quest to facilitate autonomous yards, Peripass and Robovision have joined forces. Peripass is the innovative Belgian provider of yard management solutions, while Robovision is the leading authority in Europe for vision learning. By joining forces, they combine their expertise to locate trailers in real time at logistics sites using Realtime Trailer Location Services. Using the latest generation of smart cameras, the exact location of vehicles can be displayed instantly, without manual actions, in the Peripass Yard Management platform. The result is greater transparency and security: tracking vehicles, avoid mistakes with trailers and optimizing loading and unloading times.
Logistics sites involve diverse – often complex – in and outbound flows. Whether it's on a production site or in a distribution center, finding the right vehicle remains a challenge, today. A  groundbreaking pilot project is currently underway at the site of H.Essers, the leading logistics service provider in Europe. By using smart cameras and vision learning, the exact location of trailers can be determined and all vehicles on the site can be managed more efficiently. Smart cameras film different zones on the site to detect trailers. Augur Vehicle, a powerful and elegant Edge camera developed by AeyeQ, collects and processes visual data. This forms the basis for deep learning solutions. By using vision learning, the system teaches itself to become smarter. The results are very impressive: a trailer can currently be recognized with an accuracy of 97% and correctly located to less than 1 meter. A result that far exceeds the use of GPS coordinates.
Realtime Trailer Location Services give operators, dispatchers and logistics managers a real-time digital twin of everything that happens on their site. This solution is like an intelligent pair of eyes from the sky that can instantly detect any incident, ranging from a truck parking at the wrong loading dock to a truck picking up the wrong trailer. Thanks to the integration with the Peripass Yard Management platform, immediate action can be taken to prevent a truck from leaving with the wrong trailer, for example by keeping the exit barrier closed. It makes it possible to find parked trailers instantly and to even keep track of the number of rented trailers on site, to avoid unnecessary rental costs. All this happens in real time on a site the size of more than 25 football fields, where 200 to 300 trucks can be managed simultaneously. This is something that's impossible to monitor manually.
H. Essers invests in innovation to increase visibility for assets and goods. Robin Ceunen, Supply Chain Innovation Manager of H.Essers explains the advantages this represents on their sites: "Realtime Trailer Location Services allows us to match each trailer to a specific parking space on our site. This enables us to streamline our shunter activities and at the same time ensures that our drivers don't lose valuable time looking for the right trailer. The big advantage is the possibility to track not only our own trailers, but also the trailers of our external partners, without having to install additional hardware."
"The digital twin is the next big thing in logistics, and vision-based AI is the essential part that empowers it." – Jonathan Berte, CEO Robovision
"Together with Robovision, we are doing groundbreaking work to deploy vision learning in yard management," says Matti Desmet, Product & Engineering Director of Peripass. "The results of this
pilot project are promising and show that the feasibility of this project is within reach. This technology is scalable to other sites and fits perfectly with Peripass's SaaS+ approach and the  collaboration with Robovision. One thing is clear: Realtime Trailer Location Services and vision learning in yard management is going to revolutionize the supply chain as we know it today."