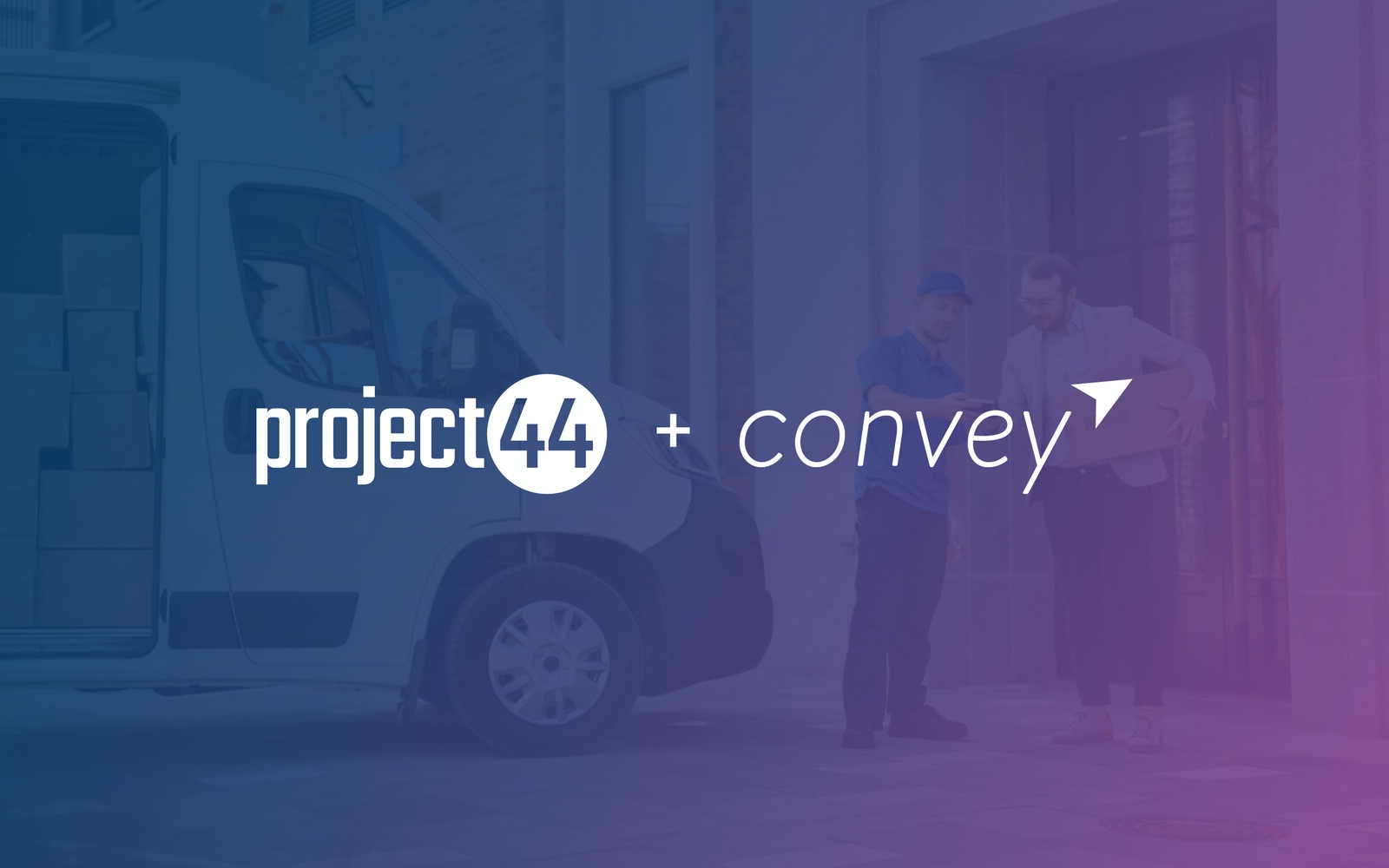 Addition of Convey extends project44's real-time visibility and exception management to last mile, including parcel, courier, white-glove doorstep delivery, and visibility into item returns
Acquisition creates definitive global leader in modern digital supply chain technology powering the world's largest businesses
New

AI

capabilities from Convey improve collaboration, bolster workflow automation and defend against business disruption with end-to-end visibility and predictive order intelligence
CHICAGO

–

SEPTEMBER

21, 2021 – project44, a supply chain software vendor in real-time supply chain visibility, today announced that it has acquired Convey, the last-mile technology vendor that powers direct-to-consumer delivery experiences for more than 200 of well-known brands, including The Home Depot, Nieman Marcus, Ferguson, Ingram-Micro, and others. Convey, recognized as a Challenger in the Gartner 2021 Magic Quadrant for Real-Time Visibility Platforms, combines real-time visibility, post-purchase experiences, and machine learning-powered analytics to improve the overall customer experience. Together, the two companies now serve the global supply chain end-to-end, providing real-time visibility and actionable insights from raw materials to the front door to help brands deliver differentiated direct-to-consumer and eCommerce experiences for their customers.

The acquisition, for $255 million in total consideration, is project44's third in 2021 and its largest to date, cementing the company's position as the connective tissue for modern supply chains. Having achieved unicorn status earlier this year with a valuation of more than $1.2 billion dollars, project44 is the largest visibility platform company as measured by ARR, customer count, and number of carriers. With Convey, project44 now connects more than 880 global shippers and third-party logistics providers with a network of 113,000 carriers, 2.6 million assets and more than 9 billion last-mile shipment events to help shippers optimize costs, grow revenue, improve speed and service and improve the delivery experience.

This acquisition is also significant because it demonstrates project44's position as the acquirer of choice for Generation 2 logistics technology companies. With three such acquisitions in the past six months, including Ocean Insights, ClearMetal, and now Convey, project44 is the largest Generation 2 logistics technology brand. These modern tech stacks allow project44 to rapidly reuse componentry from the acquired company's technology within the project44 platform in a dramatically shorter turn-around time than is possible for traditional Generation 1 logistics technology companies.

Once a back-office function, supply chain is now recognized by consumers and the industry as one of – if not the most – critical business function from main street to Wall Street, the world over. According to Gartner®, Inc., ​"enabling end-to-end supply chain visibility, providing access to customer experience (CX) data and aligning with organization-wide CX structures and initiatives are the top actions being taken to drive a more CX-focused supply chain culture."1

"project44 is solving today's most critical business challenge – how to deliver on continuously evolving customer expectations while remaining operationally efficient during unprecedented uncertainty and growing complexity," said Jett McCandless, CEO and founder of project44. ​"Our acquisition of Convey brings project44 all the way to the front doorstep and helps our partners become more proactive and efficient so they can get people the products they want and need this holiday and beyond."

project44 and Convey radically change the way companies view, learn, and react to downstream changes, such as shipping delays, ETA changes, COVID-related worker shortages and port closures. As companies enter a tenuous holiday season, the demand for total order visibility and the ability to get ahead of issues before they occur has never been greater. Added capabilities from Convey, including the ability to resolve parcel delivery issues through automated customer communication, have bolstered project44's suite of workflow solutions, allowing carriers and logistics service providers to spend less time working manually and more time focused on their core business.

"The stakes are high for companies to not only fulfill and ship orders but to make the right promises about availability and delivery. However, volatile conditions, overwhelming complexity and blind spots in the supply chain make this difficult to achieve," continued McCandless. ​"We've solved this with the acquisition of Convey, making project44 the unequivocal choice for any company that wants to leverage supply chain and logistics as a competitive advantage and driver of brand loyalty."

Together, project44 and Convey provide a single solution that delivers value to customers and supply chain partners by:
Establishing a unified view of the supply chain – from raw materials to the consumer's door
Providing the same managed and superior consumer delivery experience capabilities in eCommerce to the much larger

B2B

market
Streamlining the day-to-day workflows and collaboration between shippers, sellers and carriers to optimize for reduced overhead and increased time spent on value-added work
Expanding the impact of

AI

on the supply chain through predictive ETAs and dynamic transit times both pre-and-post purchase, powered by the industry's most trusted, comprehensive, and high-quality transportation dataset
"Salesforce, Google and Adobe have transformed virtually every aspect of the digital customer experience through visibility and intelligent decisioning in the shape of marketing automation, targeted advertising and personalization. Now with Convey, project44 is bringing this approach and cutting-edge technology to the most complex customer experience challenge yet: the supply chain," said Rob Taylor, founder and CEO of Convey. ​"We are thrilled to merge forces with project44 and look forward to continuing to build out one of the world's greatest and most disruptive software companies."
Improving the Customer Experience
"With thousands of shipments in-flight at any point in time and the details around those orders living in many disparate systems across our organization, it can be difficult to figure out which ones need our immediate attention," said Devin Van Hout, vice president of digital commerce at Ferguson Enterprises. ​"Convey's solution gives our team all the information we need to go from reactive to proactive, while also providing us with the tools to communicate with all relevant parties within the same view. The result is a simple, consistent customer experience in the face of massive B2B complexity."
project44 will host the first-of-its-kind virtual Supply Chain Live event at 9:00 a.m. CST on September 28. The event will spotlight the challenges facing brands as they approach retail's busiest season amidst another disruptive year, and feature a fireside chat with Gartner Vice President of Research, Bart De Muynck. To register for Supply Chain Live or to learn more about the key insights from the project44 platform that are critical to retail's supply chain, visit project44.com.