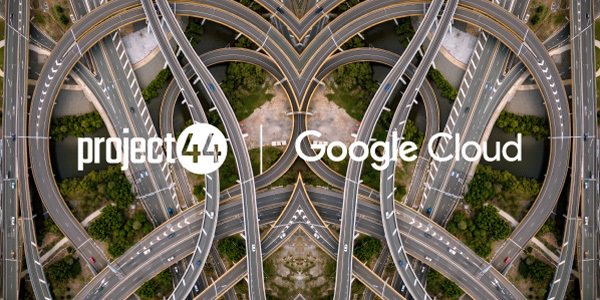 This week, Google announced the Google Cloud Supply Chain Twin solution (link to Google press release), a groundbreaking initiative designed to help organizations solve the most complex challenges facing the global supply chain. The initiative is powered by the strongest data companies throughout the world and will unify large amounts of data from a variety of systems to build a digital representation of the physical supply chain. This combination of leading supply chain technology vendors and systems integrators – vetted and selected by Google – will provide and all-in-one supply chain technology solution to enable more intelligent planning and decision making.
To power real- time visibility for the Google Cloud Supply Chain Twin solution, Google chose project44 as its Premier Visibility partner (link to p44 press release). No other visibility companies have been selected to participate in the Supply Chain Twin. Obviously, this is a big deal for project44, and further validates our position as the leading real-time supply chain visibility provider in the industry. But it gets even better. For this partnership, Google approached project44 and asked us to participate, rather than the other way around. To us, it is obvious why – the project44 platform provides real-time visibility into shipments and orders and is backed by the most accurate end-to-end dataset, the largest carrier network in the world, and integrations at scale.
The reason for this superior data can be traced back to project44's priorities since our inception. While other competitors in the visibility space prioritized building new applications, UIs, and features, our priority since day one has been building the most accurate, highest quality dataset in the industry. Once we achieved that, we began investing additional resources behind building out new applications, features, and UIs. Because if your data isn't accurate, all the fancy apps and tools in the world just don't matter.
Furthermore, project44's approach to data, visibility, and modern application development is highly differentiated. Here are 5 key reasons why.
Data Connectivity: A requirement of accurate data is having the highest possible global connectivity. project44 currently boasts the world's largest multi-modal network, tracking 96% of the worlds containerized freight and over 110,000 multimodal carrier integrations backed by the most modern API-set. Supporting this connectivity are our strong relationships with carriers and LSPs. Rather than simply ​

"

leveraging" carriers, we maintain deep and consistent partnerships with carriers, involving weekly collaboration calls and customized suggestions on improving data. Uniquely, many of the top carriers and LSPs are also project44 customers, meaning that the industry is already running on project44s pipes, which has downstream benefits for shipper customers. We were able to achieve this by developing a high level of automation for carrier onboarding thanks to the industry's first and best carrier onboarding 

SLA

, intelligent matching on inventory data to transportation assets, and our ability to automatically provide visibility to previously invisible subcontracted carriers and unidentified assets. No other real-time visibility company has this capacity.
Data Quality: The core four pillars of Data Quality are Completeness, Accuracy, Latency, and Fidelity. What makes this unique is that for each of these pillars, project44 holds pending patents for each, proving no other company has solved these problems before or can recreate these innovations. These patents (more detail to come in future blogs) provide a highly innovative and proprietary foundation for solving the industry's core data challenges. And this is all made possible by project44 recruiting the industry's top 

AI

 team from Stanford, Berkeley, and Ecole Polytechnique labs and also its own Center of Excellence offices in San Francisco and Rostock Germany.
Applications: While project44's focus has long been on real-time visibility for logistics teams, we can also uniquely serve use cases beyond logistics so that multiple teams across the business can make use of project44's data. These use cases include using lead times and promise dates for Sales teams, inbound visibility from suppliers for Direct Procurement teams, delayed shipments, and invoicing for Customer Service and Finance teams. Recent expansions to our application set have included ways for customers to understand cost and global sustainability of their supply chain and improve cost and operational efficiencies related to Shipment Lifecycle, such as Rate/​Dispatch, Digital Docs, Pre-Shipment Execution, and Freight Procurement tools as well as Workflow Automation for Collaborative Visibility and Appointment Scheduling. This combination of capabilities combined with a depth of data capabilities is rare, with more innovations to be released throughout the remainder of 2021 and beyond.
Customer Experience: project44 has pioneered a highly innovative methodology to deploy software to customers in rapid fashion and is partnering to drive co-innovation long term. Known as ​

"

the p44 Experience" it has resulted in customers like Amazon, Exxon, 

CEVA

, and Unilever standardizing on a single platform to see significant benefits, like Unilever wrote about in this article.
Strategy: project44's strategic partnerships, acquisitions, and investments provide unmatched innovation for the benefit of global shippers and LSPs. From strategic partnerships with 

SAP

, Blue Yonder, and now Google provide customers with highly interoperable 

IT

 ecosystems and joint collaborations with the best supply chain vendors in each space. Recent acquisitions of Ocean Insights to leverage unparalleled ocean intelligence and ClearMetal add depth to order-level tracking capabilities and data science expertise.
Our approach to data connectivity, data quality, application building, customer experience, and strategy has proved to be a winning combination. In Q2 of 2021 alone, project44 secured more ARR than the next 6 visibility providers combined. Prestigious financial partners like Goldman Sachs and Insight Partners have continued to invest in project44 (most recently a $202 million Series E funding round from Goldman, further) increasing our ability to innovate more rapidly and globally than the competition.
Google asked project44 to power their Supply Chain Twin solution because we are the world's leading real-time visibility provider in the industry, backed the most accurate data, the largest network, and existing business relationships with the best big data companies in the world.