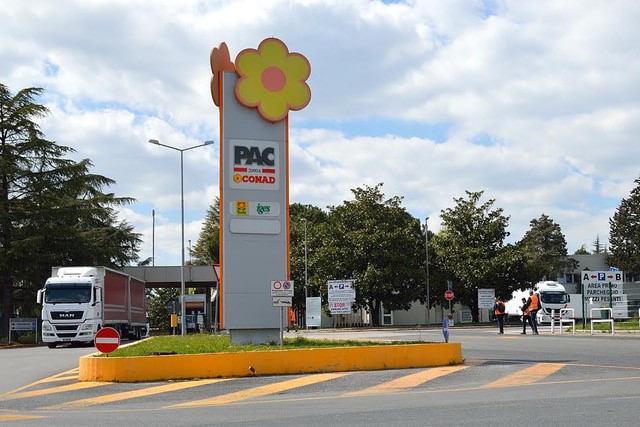 The largest cooperative in the Conad consortium enhances its logistics with end-to-end supply chain visibility for more effective and transparent management.
Paris, France, September 13, 2021 – TESISQUARE®, a technology partner specializing in the design and implementation of collaborative digital ecosystems, and Shippeo, a global leader and European specialist in real-time transportation visibility, today announced that they have been selected by PAC2000A Conad as project partners to enhance real-time transportation visibility (RTTV).
The technological solutions and expertise of TESISQUARE® and Shippeo were selected by PAC2000A Conad to improve the performance of the cooperative's logistics processes, which is engaged in the day-to-day management of a complex supply chain to reach more than 1,400 stores in five regions of Italy.
The TESI TMS software suite will provide PAC2000A Conad with an accurate view of its transport operations, making decision-making more agile. Waiting and delivery times will be accurately tracked using geofencing and GPS tracking, enabling accurate measurement of delivery performance and control of the transport network. Predictive information will be available to all supply chain partners through the integration of Shippeo's visibility service with the TESISQUARE Platform and mobile application. In addition, by taking advantage of process automation, time spent on low value-added activities will be reduced. Shippeo's Machine Learning algorithm will process real-time truck location data and over 200 parameters to calculate an accurate and reliable ETA, thus providing users with real-time predictive insight for every delivery within the TESISQUARE Platform.
"We chose to rely on TESISQUARE® and Shippeo because we are convinced that they can guarantee transport visibility and efficiency. These new capabilities will allow us to rapidly access timely information, in a more integrated way, to optimise logistics processes, in turn helping us improve the level of service we provide our customers. In addition, it will allow us to optimise delivery routes in order to significantly reduce CO2 emissions, as part of our focus on sustainability," says Massimiliano Matteucci, Logistics Director at PAC2000A.
With the expertise of two internationally recognised supply chain players and a global network of companies and carriers connected by innovative, high value-added technologies, PAC2000A will be able to increase the performance of the entire value chain, including customer service, by improving logistics flow management and on-shelf availability.