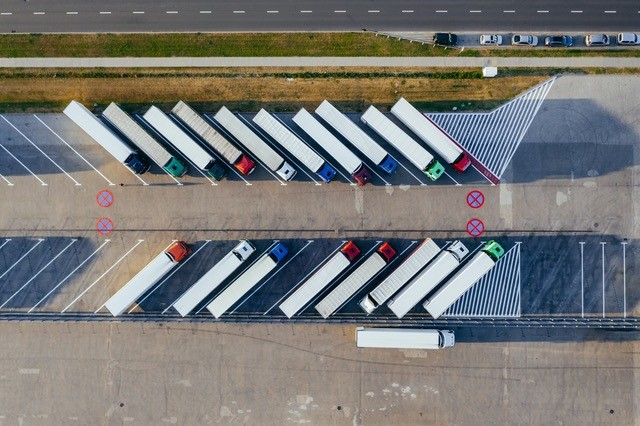 Ghent/Paris, March 2021 – Shippeo, the European leader in real-time transportation visibility, has joined forces with Peripass, an innovative Belgian yard management solutions provider to offer seamless end-to-end freight visibility and integrated logistics processes across yard and transport operations.
Shippeo's real-time transportation visibility service will be integrated into Peripass's Yard Management Solutions platform, combining all the benefits of integrated logistics processes, from real-time visibility to the automation and digitization of logistics flows within the yard. An area often overlooked within supply chains when it comes to investment, the 'yard' is ripe for process and efficiency enhancements. The Peripass Yard Management Solution fully automates and integrates logistics processes throughout the yard, automating logistics flows.
The combined solution goes beyond traditional dock management to also incorporate weighing bridges, gates and communication to guide trucks to the right gate. The platform can help teams better manage their day-to-day loading and unloading activities for trucks and trailers on site. Self-service kiosks, a yard control tower portal and process automation all help customers make considerable cost savings across administration, detention and demurrage expenses and reduce idle dock labour to boost overall productivity.
With the integration of Shippeo's real-time visibility data, demurrage costs can be reduced thanks to the anticipation of delays. Better optimized execution and real-time overviews of execution planning enable greater throughput and faster dispatch decisions. In fact, the insight into site operations provided by Yard Control Tower enables processes to be optimized, shortening lead times, increasing volume and reducing waiting costs by 85%. In addition, better incoming visibility will help to improve client service experience.
Having been selected by major European brands including Tereos, Bridgestone, XPO Logistics, Kuehne+Nagel, Lidl and Intermarché, the Belgian-based yard management specialist has big growth plans throughout Europe. Partnerships with key market players, such as Shippeo, provide more seamless integrations for customers and create more customized offerings for clients.
"Customers were already using both solutions next to each other. Like this, users still had to do the thinking themselves and compare data in both systems," explains Leander Naessens, CEO of Peripass. "By integrating with Shippeo, we're able to create a more seamless experience and complete picture for our customers in tracing the flow of goods from road, rail or maritime right through to warehouses."
Shippeo COO Lucien Besse is thrilled that the two partners are joining forces to expand their networks and create new capabilities for customers. "Real-time management of freight transport is becoming critical for companies to stay agile and competitive. Partnering with Peripass gives us the opportunity to offer customers a greater range of integrations, functionalities and both a wider and deeper real-time view of freight movements, to better meet the unique demands of businesses."
About Peripass
Peripass provides yard management solutions in Logistics, Retail, Manufacturing and Food & Beverage. Peripass works for companies such as Bridgestone, Lidl, XPO Logistics and Intermarché. Peripass provides an innovative SAAS+ platform and has a clear mission with strong international ambitions. Peripass enables logistics processes to be identified, and thanks to the logistical expertise acquired in various sectors, to be digitized and optimized. Where Peripass is already in use, companies benefit from a long lasting positive impact in several areas: more visibility, increased security and improved efficiency. What all current projects have in common are significant cost savings as a result. More information on www.peripass.com
About Shippeo
Shippeo, the European leader in real-time transportation visibility, helps major shippers and logistics service providers leverage transportation to deliver exceptional customer service and achieve operational excellence. Their Multimodal Visibility Network connects FTL, LTL, parcel, and container transport and integrates 700+ TMS, telematics and ELD systems using a unique API. The Shippeo platform provides instant access to real-time delivery tracking, automates customer processes and offers unmatched ETA accuracy thanks to a proprietary and industry-leading algorithm developed in-house. Global brands like Carrefour, Schneider Electric, Faurecia, Saint-Gobain and Eckes Granini trust Shippeo to track more than 10 million shipments per year across 70 countries. Learn more at www.shippeo.com
PR Contact Peripass
Caroline Vanderbauwede
Marketing Manager Peripass
GSM: +32 476 77 66 45
Email: caroline.vanderbauwede@peripass.com