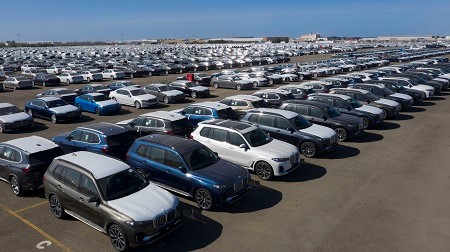 Aachen / Jeddah, February 25th, 2021 – Mosanada Logistics Services (MLS) is the First 3PL in the middle east to implement a state-of-the-art Yard Management Solution from Aachen, Germany, based optimization specialist INFORM. MLS aims to take its capabilities in finished vehicle logistics to a new level by planning and optimizing their growing automotive logistics operations in Saudi Arabia and the region, providing its customers with an indispensable fully digitized experience throughout every step in its value chain.
Established in 2010, the Mosanada Logistics Services (MLS) based on several decades of solid experience, had obtained in the storage, and distribution of both dry and chilled/frozen products across Saudi Arabia. Then in 2019 the journey was elevated further by adding a new vertical to serve the automotive sector capitalizing on wide spectrum of expertise to deliver innovative and reliable End-to-End Logistics solutions to a variety of customers including Chery, Hyundai, Nissan, Ford, Jaguar, Land Rover, BMW, Mini Cooper, Rolls Royce.
Currently, MLS is proudly serving a diversified portfolio of customers leveraging on its strong footprint with 11 FMCG warehouses and 3 stockyards covering the kingdom, in addition to a dedicated experienced team who is always ready to go the extra mile exceeding customers' expectations.
As MLS is keen to improve the service quality, elevate the customer experience and enhance its service offering to its growing portfolio of customers, an innovative Yard-Management-System (YMS) from the German based software developer INFORM was the optimum solution to provide its esteemed customers offering real time, end-to-end monitoring, planning and optimization of vehicle logistics process in line with their customers' goals and priorities.
"We perceived INFORM as a solid strategic partner, who will reliably move forward with us," said Abdullah Riyad, Program Sponsor at MLS. Being a strategic partner in the middle east to INFORM, Mosanada is expecting to realize a wide spectrum of benefits including competitive lead times to deliver the customers' requests, full visibility, and traceability across all of its processes, optimized operations planning in addition to exploiting various efficiency improvement to strengthen its competitive advantage as a leading automotive 3PL partner of choice.
Optimization Algorithms for Vehicle Logistics
INFORM's technology can be used to optimize the distribution of parking spaces on the compound, the work distribution among the workers, as well as workshop operations. "Algorithms, unlike people, plan from a central perspective," says Hartmut Haubrich, Director Finished Vehicle Logistics at INFORM GmbH. "For example, human employees who have to move vehicles on a compound often choose the car that happens to be in their vicinity as their next work step. However, our system can determine whether there are time savings for the subsequent tasks if the employee chooses a car that is located a little farther away instead. It may have already determined that this car needs to be parked in a place where the employee can reach his following task more quickly. In this case, the system will assign the worker to the task that allows an overall optimal process."
In this way, optimization algorithms enable enormous time and cost savings since considerably more vehicles can be processed with existing capacities in a more sensible sequence. These features are among the reasons why MLS decided to collaborate with INFORM.