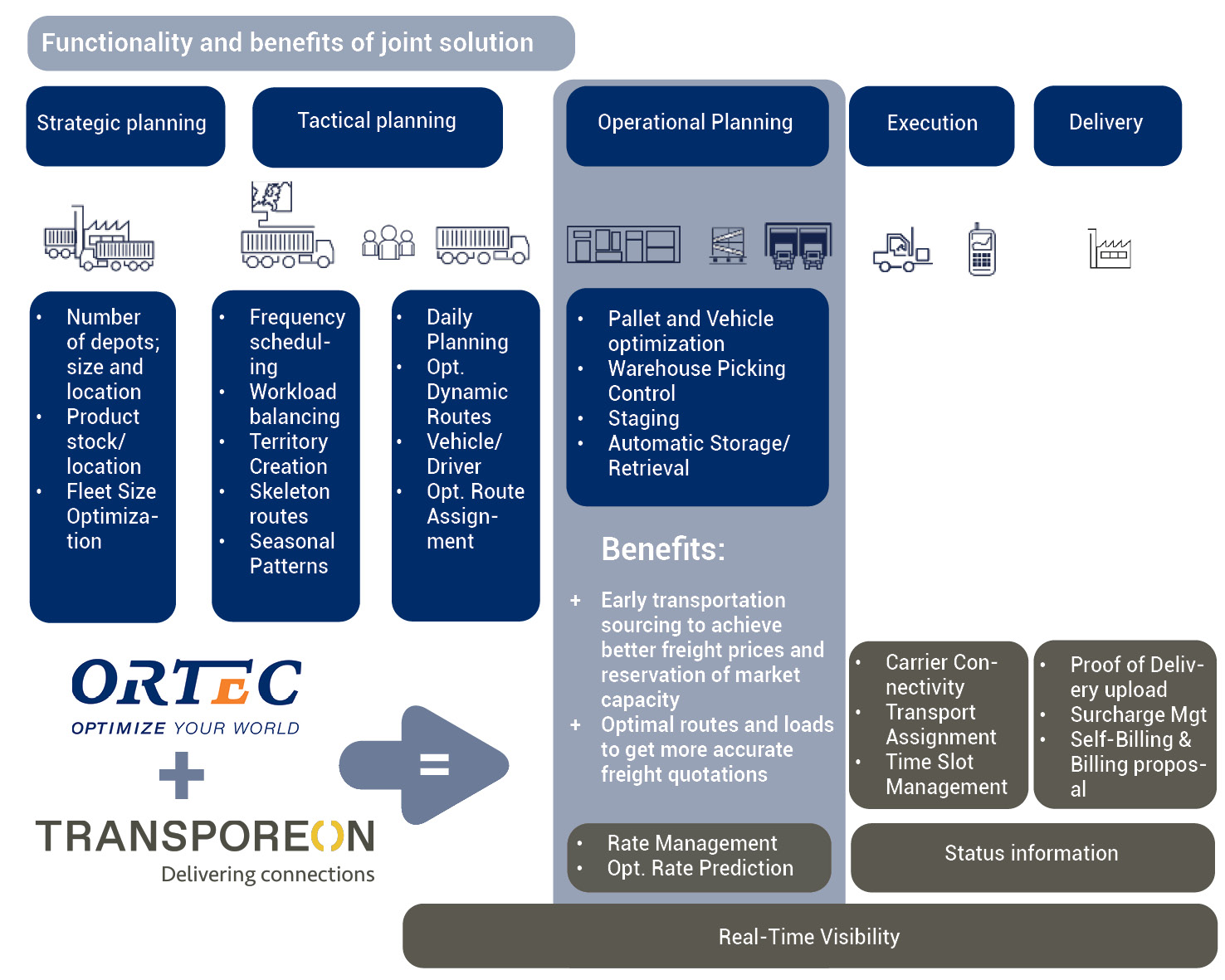 Ulm, 22.09.2020 –
The cooperation aims to help companies identify optimal loading configurations and transport routes before tendering and executing freight orders on Transporeon's cloud-based platform.
Optimized loading and routing will bring tangible cost benefits while reducing environmental impact.
"This cooperation represents another exciting step on our digitalization journey while bringing a very tangible benefit to our customers," says Transporeon CEO Stephan Sieber.
Transporeon and ORTEC are announcing today a strategic cooperation, aimed at offering an advanced, data-driven solution to customers looking for more efficient ways of allocating and routing freight loads. The partnership brings together the European market leader in integrated cloud-based logistics platforms with the world's leading supplier of mathematical optimization software.
Users of the joint solution will be able to make use of ORTEC's best-in-class logistics planning software to optimize truck loading and transport routes before selecting the optimal carriers and carrying out all other logistics-related operations using the Transporeon cloud-based platform.
The enhanced offering will not only help companies reduce cost and streamline operations, it will also contribute towards a more sustainable logistics industry through more efficient capacity utilization, reduced empty journeys, and optimized routes, all of which lead to a corresponding reduction in CO2 emissions.
The cooperation builds on existing complementarities between the two software and data analytical specialists. Both Transporeon and ORTEC share a strong footprint within the same industries (including manufacturing, construction, retail, transport & logistics) and several customers are already using both companies' solutions.
"This cooperation represents another exciting step on our digitalization journey and brings a very tangible benefit to our customers," said Transporeon CEO Stephan Sieber. "Our goal is to move freight logistics forwards by providing outstanding data-driven solutions, whether these be our own developments or those of our partners. By integrating ORTEC's world-leading optimization software, we can help our customers to streamline operations while reducing their environmental footprint."
Stefan Huntemann, Managing Partner at ORTEC commented: "The added value of leveraging data and mathematics can be realized in virtually every business process and every industry, and we see huge potential in the field of transport logistics. So we're delighted to be able to expand on our existing activities in this field through cooperation with the European market leader in cloud-based logistics solutions. With our shared data-driven vision and a similar industrial footprint, ORTEC and Transporeon will make a great team."