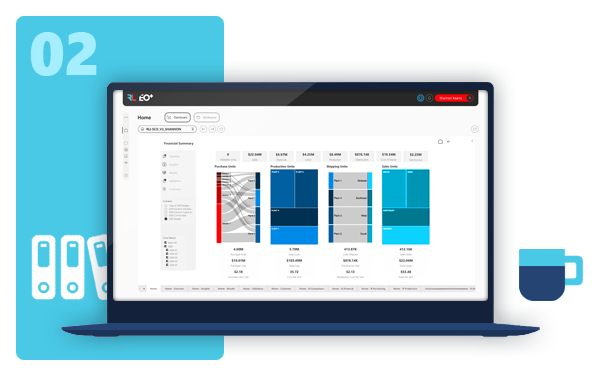 Solution Facilitates PMI's Operational Strategic Decision Making
DALLAS, Sept. 15, 2020 /PRNewswire/ — River Logic, the leading provider of prescriptive analytics technology, successfully deployed supply chain optimization technology for manufacturing at Philip Morris International (PMI), a multinational tobacco company with approximately 40 manufacturing centers around the world.
"We are thrilled at the opportunity to be a preferred technology vendor and help address Philip Morris International's supply chain optimization needs," said Carlos Centurion, President of River Logic. "When it comes to sourcing optimization on a global scale, especially for an industry that is changing so quickly, it's crucial that manufacturing companies consider the end-to-end value chain, not just the supply chain."
In partnership, River Logic and PMI created a digital twin of the company's global manufacturing footprint, equipped with advanced prescriptive analytics capabilities. The solution offers scenario analysis capabilities that enable PMI to assess the impact of changes in local market regulation, business disruption, product portfolio changes, equipment moves, and more on a monthly basis versus only on a yearly basis. A key technology requirement was the capability to run forward looking optimization scenarios using a robust financial modeling to represent manufacturing costs, duties, and transportation costs across the network.
"With the introduction of the smoke-free product category in PMI's portfolio, our business ecosystem is changing drastically. There are so many non-standard complexities and new constraints across our value chain that traditional tools and techniques could no longer support us in setting up our roadmap," said Alexandros Skandalakis, Director Manufacturing Capacity and Footprint at PMI. "Implementing River Logic's solution enables us to extend the number of variables that could impact decisions, such as sourcing options, capacities and capabilities, inter-trading-zone product duties, inter plant product transfer prices, and distribution costs. We reduced spread sheet simulations by 90% and decreased the time required for scenario evaluation from weeks to hours. Today, we have a digital, collaborative and cross-functional tool helping us identify and quantify sourcing opportunities at a global scale, across different product categories, for up to a 10 year glide path period."