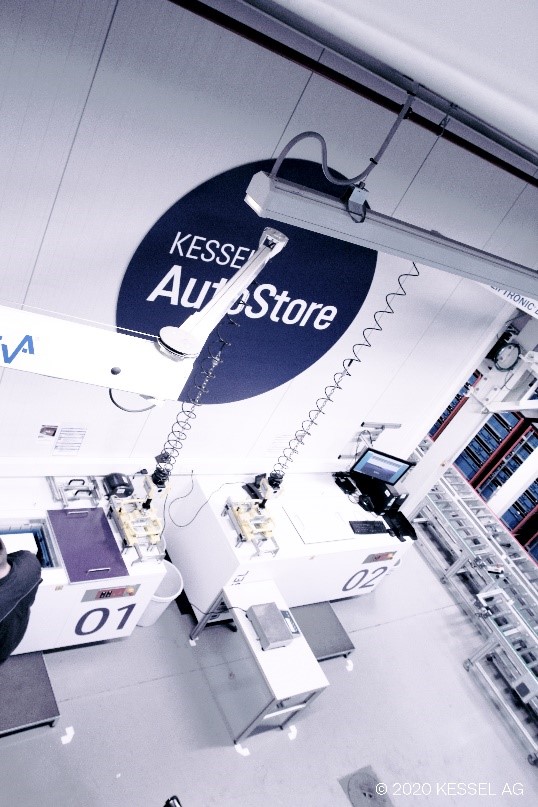 Specialist for drainage technology and SAP partner inconso go live with centralized logistics capacities at headquarters in Lenting
Bad Nauheim, Germany, 06/10/2020
After the successful expansion and centralization of logistics capacities at the main production and storage site in Lenting, Kessel AG is now focusing on fully automated logistics processes. In just a few months, the specialist for drainage technology has increased picking performance by 20 percent with the go-live of an AutoStore® system.
Together with the certified SAP partner inconso, part of the Business Area Körber Supply Chain, the software was connected in only three months. "The go-live of the AutoStore® system did not interfere with regular operations," as André Rabenmüller, Logistics Manager at Kessel, explains. "The project team was extremely agile and thus reflected a project approach that was entirely geared towards flexibility. The new warehouse system enables us to dynamically adjust capacity utilization in our logistics areas. Also, AutoStore® enables us to fully automate the internal material flow."
The components are transported from the in-house injection molding shop to Autostore® and transferred to a conveyor line using driverless transport systems. The system, designed for 13,300 locations, uses six robots to control three ports using the goods-to-person approach. KESSEL moves about 150 Autostore® bins per hour to secure site-related production processes (production supply/disposal) in order to ensure the delivery of drains, backwater valves, lifting systems, pumps and separators to over 60 countries. The AutoStore® system was seamlessly integrated with the existing SAP system landscape in Lenting. In the next step, together with inconso, automatic store-in from the conveyor line directly into the AutoStore with a robot will be implemented, announced Stephanie Fürsich, Project Manager at Kessel.
The warehouse expansion is also in support of Kessel's sustainability strategy by using space much more efficiently and reducing energy costs.
About Kessel
Kessel AG is Germany's market leader for drainage technology. Founded in 1963, the company established plastic in drainage technology. Today, Kessel AG is an international premium supplier with over 600 employees. From the drainage and treatment of waste water to protection against backwater in a building, the product range includes holistic system solutions for drainage technology.