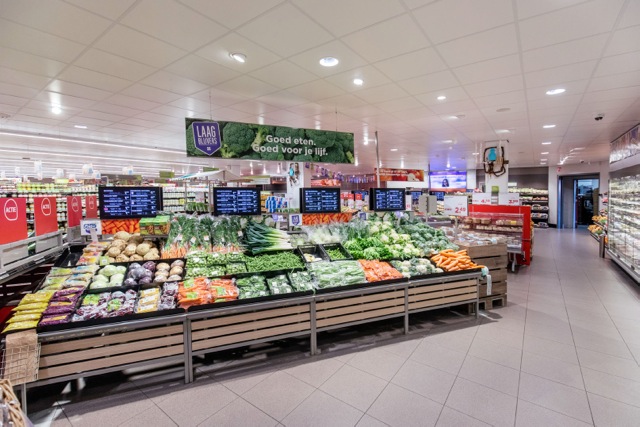 Helsinki – May 29, 2020. Plus Retail, a leading Dutch co-operative with around 270 supermarkets operated by independent entrepreneurs offering fresh goods, has chosen to partner with Relex Solutions to integrate Plus Retail's space planning with forecasting and replenishment. Powered by pragmatic Artificial Intelligence (AI) and innovative machine-learning technology, the new Relex capabilities will increase operational efficiency across the entire organization and deliver unified planning processes that better meet local demand and cut waste.
Relex will support all of Plus's supermarkets as well as its 5 distribution centers across the Netherlands with a fully integrated end-to-end supply chain planning and store assortment strategy within an intuitive and flexible platform. The new solution will centralize Plus's planning processes and enable decision making based on store-specific data to ensure high availability and low inventory levels in all stores. It will also increase automation at the store level to support ordering activities, so store managers are able to focus on more value adding activities.
Plus sought a solution that would deliver advanced forecasting, replenishment and store space planning capabilities whilst also being intuitive and easy to use. The new solution will automate and improve planning processes across all retail functions and at grocery retail scale. Plus chose Relex due to its customer first culture, leading artificial intelligence and machine learning capabilities, outstanding track record in the grocery sector and for its best-in-class retail technology.
"Relex is a sophisticated solution that delivers real benefits by leveraging pragmatic AI and machine learning within a unified platform," says Rowell Versleijen, Director Logistics & Supply Chain at Plus Retail. "Our goal is to always base our planning on data-driven decisions to improve forecast and replenishment accuracy in both our stores and DCs. The combination of science and experience that Relex brings to our processes enables us to do just that."
"We're proud to partner with Plus Retail and have felt mutual trust since day one. Our cultures are very much aligned, and we're looking forward to building on the strong relationship," says Jason Berry, VP Northern Europe & South Africa at Relex Solutions. "We've committed to quickly delivering a living retail platform that Plus Retail can benefit from for many years and we have no doubt that this will be a strategic partnership that delivers tangible value to both parties"
About Relex Solutions
Relex Solutions is a leading provider of cutting-edge retail optimization software that's built for the age of Living Retail, where change is the only constant. We help retailers adapt to every future, faster.
Our cloud-native Living Retail Platform delivers pragmatic AI across all retail functions and at retail scale, eradicating siloes, rigidities and inefficiencies along the way. We offer a fast lane to value that builds from a foundation of radically improved demand forecasting and supply chain optimization. Our customers leverage this enhanced supply chain visibility into exponential benefits — optimizing their space, allocation, workforce, pricing and promotion strategies, all within our unified platform.
Today, Relex is a hyper-growth company with 250+ customers who love us — ask any of them for a frank and independent assessment of our team and solutions. Relex is trusted by leading brands including AutoZone, PetSmart, The Vitamin Shoppe, Big Lots, and Thrive Market, and has offices across North America, Europe and the Asia Pacific region.
Go to relexsolutions.com for more.