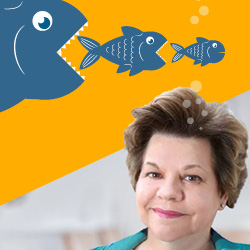 This morning E2open announced the acquisition of Steelwedge for an undisclosed sum of money. Founded in 2000, Steelwedge was an innovator in Sales and Operations Planning (S&OP) and was an early provider of cloud solutions for supply chain. I estimate that the company had annual sales of 30M$. Clients include Canon, Pfizer, HP Inc, Jaguar Land Rover, Lenovo, Nissan and Monsanto.
When E2open called to tell me of the acquisition, they asked, "What do you think?" The company's press release rhetoric is bullish. More positive than most. However, sitting at my desk, I made a careful list of pros and cons based on history. My answer? I am not sure. It depends. Here is my analysis.
A Look Back. Is Steelwedge a Tragic Hero of Supply Chain Cloud Technology?
I remember my first briefing with Steelwedge in 2001. On a short trip to California I had dinner with the founder. After dinner we walked the Bay and engaged in a deep discussion. I asked him over and over, "Is the market ready for a solution for JUST Sales and Operations Planning?" I struggled to understand how a company focused just on S&OP could be viable. I questioned the size of the market, and if companies needed a standalone S&OP solution. He was bullish and I shrugged my shoulders. I was not sure.